EMAIL
Home > PRODUCT > Automotive Air Quality Sensor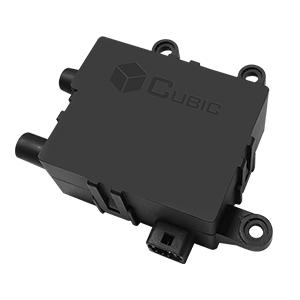 Automotive Particulate Matter Sensor
APMS-3302
Automotive particulate matter sensor APMS-3302 is a laser particle sensor module for automotive application, which can measure PM2.5 concentration accurately and output in unit of μg/m directly via mathematical algorithm and scientific calibration.
Features
Long lifetime, more than 100,000 hours
High-temperature laser module with constant power output, working temperature can reach 85℃
Multi-channel output, not only PM2.5 but also PM1.0 and PM10 concentration simutaneously
Iintelligent identification of different dust sources
Accurate, stable and reliable measurement in various practical and complex road conditions
Specifications
* Automotive air quality sensors are OEM based. The above features and specifications are one of the typical versions. To get more technical information and customized air quality sensor solutions, please contact info@gassensor.com.cn.
You can contact Cubic by telephone, mail or email , or you can submit an online Request for Quotation Form.
Email: info@gassensor.com.cn
Required*

Buy Our Products at Your Local Distributor
Add: Fenghuang No.3 Road, Fenghuang Industrial Park, Eastlake Hi-tech Development Zone, Wuhan, 430205, China
Tel: +86-27-81628827
Fax: +86-27-87401159
Email: info@gassensor.com.cn
© 2002-2022 Cubic Sensor and Instrument Co.,Ltd. All rights reserved.