EMAIL

Home > Product > NDIR ETCO2 Sensor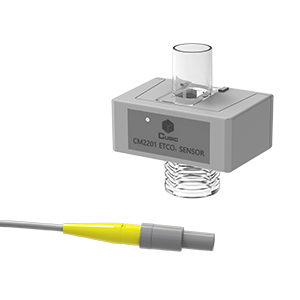 Medical Mainstream EtCO2 Sensor Module CM2201
CM2201
Show More
Features
Dual beam NDIR technology.
Modular design, compatible with most of the major monitors to continuously measure CO2 concentration in gas and calculate End-tidal CO2 (ETCO2), and Respiration Rate (RR).
Fast response.
High accuracy, safe and reliable, robust and durable.
Long service life. no wearing parts,low maintenance cost.
Small and lightweight.
Easy to use,plug and play, no need for regular calibration.
EMI design can be against the interference of electromagnetic.
Design to meet EN IEC 55014-1:2021,EN IEC 61000-3-2:2019+A1:2021,EN 61000-3-3:2013+A1:2019, EN IEC 55014-2:2021.
OEM/ODM solution available: With 20 years of NDIR carbon dioxide detection technology to provide fast and professional customized ODM/OEM solutions with various communication protocols.
You can contact Cubic by telephone, mail or email , or you can submit an online Request for Quotation Form.
Email: info@gassensor.com.cn
Required*
CONTACT SALES