EMAIL
Home > PRODUCT > Formaldehyde & VOC Sensor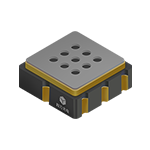 VOC Gas Sensor VM-1001
The VOC gas sensor VM-1001 adopts advanced broad spectrum and indirectly heated structure. The sensor consists of a ceramic heater coated with nanoscale semi-conductive material MOX and doped with appropriate microelement, it is very sensitive to formaldehyde, benzene, carbon monoxide, ammonia, hydrogen, alcohol, cigarette smoke and other volatile organic components. The sensor has good consistency and high sensitivity after aging test, debugging, calibration.
Features
High sensitivity and consistency
High integration module
Temperature compensation algorithm
Low power consumption
Fast response
You can contact Cubic by telephone, mail or email , or you can submit an online Request for Quotation Form.
Email: info@gassensor.com.cn
Required*

Buy Our Products at Your Local Distributor
Add: Fenghuang No.3 Road, Fenghuang Industrial Park, Eastlake Hi-tech Development Zone, Wuhan, 430205, China
Tel: +86-27-81628827
Fax: +86-27-87401159
Email: info@gassensor.com.cn
© 2002-2022 Cubic Sensor and Instrument Co.,Ltd. All rights reserved.