EMAIL

Home > Product > Gas Analyzer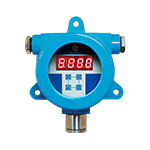 Infrared Carbon Dioxide Transmitter
CRH Series
CRH Series
CRH series infrared carbon dioxide transmitter is used in online monitoring and to display the carbon dioxide concentration in the air, and to transmit the signal to the control center. It has high precision, long service life, good stability, and high cost performance.
Show More
Features
Adopt international advanced NDIR non-dispersed infrared gas analysis technology.
Short response time, high precision.
Stable performance, long calibrating period, less maintenance.
Can be used in anaerobic atmosphere.
Long service life, no sensor intoxicating phenomenon .
4 LED numerical code display.
Has the function of temperature compensation, automatic zero correction.
Specifications
CO2 Sensor CM1106-C
Measurement method
NDIR
Range
CO2: 0-5000ppm up to 0-20% vol
Warm-up time
30s
Accuracy
For range -5000ppm to 0-20000ppm: ±25ppm/±10% of reading
For range 0-1%vol: ±0.1%
For range 1-5%vol: ±(0.05%± 5% of reading)
For range 5-20%vol: ±10% of reading
Response time
T90< 30s at 20C
Working voltage
8-25V
Output
RS485/4-20mA
Dimension
195*145*105mm
Lifespan
≥10 years
Show More
You can contact Cubic by telephone, mail or email , or you can submit an online Request for Quotation Form.
Email: info@gassensor.com.cn
Required*
CONTACT SALES