EMAIL

Home > Product > Gas Analyzer
Indoor Air Quality

Outdoor Environment

Health Medical

Automotive Electronics

Safety Alarm

Smart Metering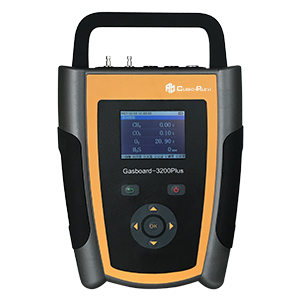 Handheld Biogas Analyzer
Gasboard-3200Plus
Gasboard-3200Plus
Gasboard-3200Plus Handheld Biogas Analyzer is designed to measure CH4, CO2, O2, H2S and optional H2, CO gases in biogas. This model is powered by lithium battery and with very compact design that very suitable for remote use onsite. It is modular sensor design ensures easy on operation and maintenance.It is very suitable for research purpose or daily inspection in different biogas applications such as Anaerobic Digestion, landfill, wastewater treatment, biomethane and so on.
Show More
Features
Modular NDIR and ECD sensors design, easy for maintenance.
Compact design with weight of 1.2Kg only, easy carrying among different sites.
Auto temperature compensation to guarantee precision.
Precision filters to remove moisture and dust in sample gas for analyzer protection.
Rechargeable Lithium battery supports up to 8 hours continuous working.
In-built memory for up to 2560 units of records, easy to download the data to PC.
Specifications
CO2 Sensor CM1106-C
Standard Measurement
CO2, CH4, O2, H2S
Optional Measurement
CO2, H2(ECD) gas flow (Thermal mass flow probe)
Technology
CH4, C02(NDIR) ; O2, H2S, CO, H2(ECD);
Range
CH4: 0-100%; CO2: 0-50%; H2S: 0999ppm, O2: 0-25%; CO: 0-2000ppm, H2: 0-2000pm;
(Note: measurement range can be customized).
Resolution
CO2, CH4, O2: 0.01%; H2S, CO, H2: 1ppm
Precision
CO2, CH4: ≤1%FS; H2S, O2, CO, H2: ≤3%FS
Gas Flow
0.7-1.2 L/min
Inlet Pressure
2kPa-50kPa
Display
High-resolution colored 3.2-inch
Sampling Gas Condition
no dust, no water, no tar
Response Time(T90)
<10s (NDIR)
GPS Sensor
Positioning and location
Communication Interface
USB port, bluetooth 4.0
Lithium Battery Pack
Rechargeable
Working Temperature
-10℃~40℃
Relative Humidity
≤95% RH (non-condensing )
Ambient Pressure
70kPa~120kPa
Dimensions
295*196*62mm (L*W*H)
Weight
1.2kgs
Show More
You can contact Cubic by telephone, mail or email , or you can submit an online Request for Quotation Form.
Email: info@gassensor.com.cn
Required*
CONTACT SALES