EMAIL

Home > Product > Gas Analyzer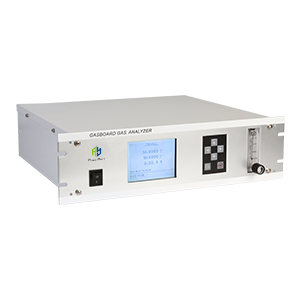 Online Infrared Flue Gas Analyzer Gasboard-3000
Gasboard-3000
It is fixed type model can continuous monitor concentration of SO2, CO2, O2 , NO and CO components in the flue gases for longtime. It is based on the micro-flow infrared method for SO2 ,NO ,CO ,CO2.This model is fixed type can sample gas for longtime. This model is designed as 19 inch enclosure physical dimension to easy install.
Show More
Features
Adopting micro-flow NDIR gas sensor technology.
Gaseous water had no effect on measured value of SO2 and NO.
Sampling flow rate fluctuations had no effect on the measurement results.
Accurate measurement of low concentration gas.
Simple operation.
LCD (320*240) display.
Digital and analog signal output.
Diagnostic function can check sensor status.
Built-in pump to achieve automatic zeroing.
Real-time continuous monitoring concentration of SO2, NO, CO, CO2, O2, measurement component is optional.
Specifications
CO2 Sensor CM1106-C
Measurement
SO2, NO,CO,CO2,O2
Technology
SO2,NO,CO,CO2(Micro-flow NDIR) O2(Electrochemical)
Range
SO2:0-2000ppm;NO: 0-2000ppm;CO: 0-5000ppm;CO2:0-25%;O2:0-25%
(Note: measurement range can be customized.)
Resolution
SO2, NO,CO:1ppm;CO2,O2:0.01%
Resolution
SO2, NO,CO:1ppm;CO2,O2:0.01%
Precision
SO2,NO,CO,CO2≤±2%;O2≤土3%
Repeatability
SO2, NO,CO,CO2,O2≤1%
Response time(T90)
<10s (NDIR)
Sampling gas condition
no water vapor, no dust, no tar.
Inlet pressure
2kPa-50kPa
Gas flow
0.7-1.2 L/min
Zero/Span drift
SO2,NO,CO,CO2≤2%;O2≤3%
Output interface
4-20 mA output and RS232
Power supply
110V/220V
Work temperature
0-50℃
Relative humidity
5-85%
Ambient pressure
86-108kPa
Size
485*460*135 mm (L*W*H)
Weight
15KG
Show More
You can contact Cubic by telephone, mail or email , or you can submit an online Request for Quotation Form.
Email: info@gassensor.com.cn
Required*
CONTACT SALES