EMAIL

Home > Product > Gas Analyzer
Indoor Air Quality

Outdoor Environment

Health Medical

Automotive Electronics

Safety Alarm

Smart Metering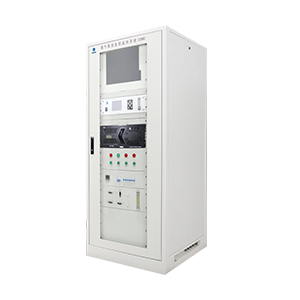 Continuous Emission Monitoring System (CEMS) Gasboard-9050B
Gasboard-9050B
The continuous emission monitoring system is based on innovative micro-flow NDIR technology to measure the SO2, NO, CO, CO2 and O2 (ECD or paramagnetic) five gases at the same time. Eliminate the ambient's temperature influence on measurement value and less interference of water vapor on SO2 and NO measurement. It has excellent prolonged stability and less cross interference.
Show More
Features
The system continuously monitors the gaseous pollutants by heating extraction method.
Sampling probe has large filtering area, the filter easy to replace.
Pretreatment system using imported devices which effectively waterproof, dust-proof, anti-corrosion.
PLC data acquisition system is fully functional, intuitive and easy to operate.
A variety of data output.
The analyzer can be flexibly selected according to field requirements.
Analysis system cabinet modular design and easy to operate.
The analysis system has stability and high reliability, so it can reduce the daily maintenance costs.
This model have rich features, it can achieve automatic sampling, purging, calibration, fault diagnosis, alarm, etc.
Specifications
CO2 Sensor CM1106-C
Range
SO2:0-2000ppm
NO:0-2000ppm
CO:0-5000ppm
CO2:0-25%
O2:0-25%
Measurement range can be customized
Technology
SO2,NO,CO,CO2(Micro-flow NDIR);O2(ECD or Paramagnetic)
Resolution
SO2,NO,CO,CO2:1ppm
O2:0.01%
Precision
SO2,NO,CO,CO2: ≤1%FS; O2:≤2%FS
Repeatability
SO2,NO,CO,CO2,O2: ≤1%
Gas Flow
0.7-1.2L/min
Inlet Pressure
2kPa-50kPa
Sampling Gas Requirement
No dust, no water vapor
Response Time
<15s (UV NDIR)
Communication Port
RS-232/RS-485
Output
4-20mA
Power Supply
110V/220V±44V AC 50Hz±1Hz
WorkTemperature
0-50℃
Relative Humidity
95% non condensing
Ambient Air Pressure
86-108kPa
Show More
You can contact Cubic by telephone, mail or email , or you can submit an online Request for Quotation Form.
Email: info@gassensor.com.cn
Required*
CONTACT SALES