EMAIL
Home > PRODUCT > Particulate Matter Sensor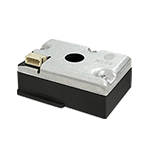 LED Particle Sensor with Dust Correction PM1006K
PM1006K infrared (LED) particle sensor real time output PM2.5 with dust deposition self-correction. It can measure dust concentration in the air by detecting the intensity of scattered light,and output real time concentration via mathematical algorithm and scientific calibration.
Features
Built-in MCU, directly output particle mass concentration (μg/m³)
Optimized lens design, the sensor can identify 0.3μm particle
High accuracy, high stability, quick response
Temperature compensation with the whole measurement range
Auto lens dust deposition correction
Compact structure, light weight and easy for installation
You can contact Cubic by telephone, mail or email , or you can submit an online Request for Quotation Form.
Email: info@gassensor.com.cn
Required*

Buy Our Products at Your Local Distributor
Add: Fenghuang No.3 Road, Fenghuang Industrial Park, Eastlake Hi-tech Development Zone, Wuhan, 430205, China
Tel: +86-27-81628827
Fax: +86-27-87401159
Email: info@gassensor.com.cn
© 2002-2022 Cubic Sensor and Instrument Co.,Ltd. All rights reserved.