EMAIL

Home > Product > Industrial Ultrasonic Gas Meter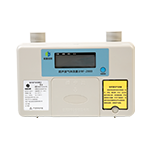 Residential Gas Meter BF-2000
BF-2000
Domestic use/for biogas BF-2000 Residential Gas Meter is a prepayment gas meter embedded with CUBIC's ultrasonic gas module which have self-owned intellectual property. It is suitable to be used in community biogas projects that supplying biogas to families directly for cooking.
Show More
Features
Digital display, functional and intuitive.
No moving part, corrosion resistant, few pressure losses.
Ultrasonic technology, high precision, long lifetime, stable performance.
No special maintenance for long time operation.
All-in-one detect probe, measure flow velocity, temperature and composition directly.
"One card to one flow meter " and reliable encryption system ensures user's interests.
Automatic detection and warning of water to clear water soaked in flow meter in time.
Highly integrated, small size and good looking appearance, easy installation.
Low power consumption. Battery can be used more than 1 year.
You can contact Cubic by telephone, mail or email , or you can submit an online Request for Quotation Form.
Email: info@gassensor.com.cn
Required*
CONTACT SALES