EMAIL
Home > PRODUCT > Integrated Sensor Module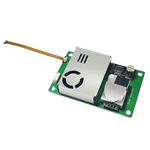 Integrated Air Quality Sensor Module
AM1008W
Integrated air quality sensor AM1008W is an ultra-thin indoor air quality sensor integrated particle sensor, NDIR CO2 sensor, temp&humidity sensor and VOC sensor module, with UART and I2C communication protocol. PM1.0, PM2.5 and PM10 can output simultaneously.
OEM/ODM AIR QUALITY SENSOR MODULES CAN BE CUSTOMIZED.
Features
4 in 1 sensor module which integrated particle, CO2, VOC and RH&T
PM1.0 PM2.5 and PM10 output simultaneously
Auto-calibration NDIR CO2 sensor
Precise accuracy and robust performance
With voltage regulator design and EMC compliant, strong anti-static ability
Ultra-thin structure
You can contact Cubic by telephone, mail or email , or you can submit an online Request for Quotation Form.
Email: info@gassensor.com.cn
Required*

Buy Our Products at Your Local Distributor
Add: Fenghuang No.3 Road, Fenghuang Industrial Park, Eastlake Hi-tech Development Zone, Wuhan, 430205, China
Tel: +86-27-81628827
Fax: +86-27-87401159
Email: info@gassensor.com.cn
© 2002-2022 Cubic Sensor and Instrument Co.,Ltd. All rights reserved.