EMAIL

Home > Product > SF6 Gas Leakage Monitoring Sensor
Indoor Air Quality

Outdoor Environment

Health Medical

Automotive Electronics

Safety Alarm

Smart Metering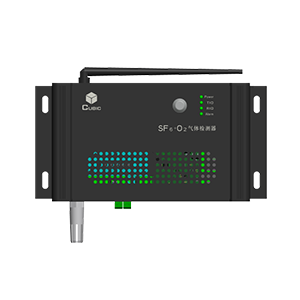 SF6 and Oxygen Gas Detector
SF6 and oxygen gas detector is used for real-time monitoring concentration of sulfur hexafluoride and oxygen as well as ambient temperature and humidity in the workplace of indoor electrical equipment so as to give early warning according to the alarm limit settings which is widely used in gas analysis industry, industrial process control, environmental detection and power plant substations and other fields. The detector is also equipped with a PIR (Passive Infrared) sensor to sense human body for safety reason. Detection data can be uploaded in real-time through RS485 or Wi-Fi to a controller or cloud.
Show More
Features
Non-Dispersive Infrared (NDIR) technology
Fast response time
Accuracy guaranteed at full temperature and humidity range
Automatic zero calibration function to overcome drift and false alarms
PIR infrared monitoring function supports human body induction
Historical data record, query and automatic alarm record
Small size and compact structure for easy installation
High reliability and long-life time (>10 years)
Specifications
CO2 Sensor CM1106-C
Working Principle
SF6: NDIR
O2: Limiting Current (Zirconia)
Target Gas
SF6,O2
Gas Detecting Range
SF6:0-1500ppm
O2:0-25.0%vol
Gas Detecting Resolution
SF6:1ppm
O2:0.1%vol
Gas Detecting Accuracy
SF6:±2%FS
O2:±0.5%vol
Alarm Error
SF6:±5%reading
O2:±0.5%vol
Alarm Threshold
SF6:1000ppm(adjustable)
O2:18%vol(adjustable)
Response Time
SF6:T90≤60s(diffusion type)
O2:T90≤60s
Temperature Detecting Range
-30℃-+85℃
Temperature Detecting Accuracy
±1℃(@FullScale)
Humidity Detecting Range
0-99%RH
Humidity Detecting Accuracy
±5%RH
PIR Detecting Range
≥3m
Product Size
205*105*58mm
Product Weight
<1.5kg
Outputs
1 RS485 Communication
2 WIFI Communication
3 RS232
Designed Lifespan
>10Years
IP Grade
IP54(can be customized according to actual application)
Temperature and Humidity
-20℃-+50℃;0-90%RH(non-condensing)
Atmosphere Pressure
86kPa-106kPa
Power Supply
AC220V±10%(50Hz±1%)
Rated Power
<15W
Show More
You can contact Cubic by telephone, mail or email , or you can submit an online Request for Quotation Form.
Email: info@gassensor.com.cn
Required*
CONTACT SALES