EMAIL

Home > Product > Toxic & Hazardous Gas Safety Monitoring Sensor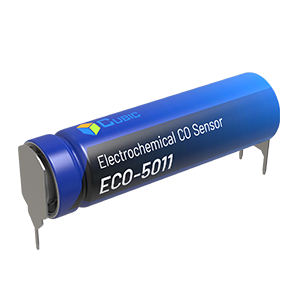 Electrochemical CO Sensor ECO-5011
ECO-5011
Carbon monoxide (CO) sensor ECO-5011 is an electrochemical sensor. Compared with other existing carbon monoxide sensor, it uses a more environmentally friendly electrolyte, and the packaging technology won't cause any leakage risk. Besides, our gas sensor has features of detecting CO concentration up to 10000ppm, wide working temperature range, low cross gas interference, and longer lifetime, etc.
EC0-5011 is widely used in residential and commercial CO detector, industrial CO monitoring, parking garage, fire alarm, home gas alarm, automotive safety alarm, etc.

Show More
Features
Wide measurement range up to 10000ppm
Battery powered, 8+ years lifetime, good long-term stability
High selectivity to CO and good repeatability
Anti-inteference to ethanol and acetic acid, resistance to organic silicon poisoning
High linear output characteristics for CO measurement
Meet UL2034, EN50291 and ROHS requirements
You can contact Cubic by telephone, mail or email , or you can submit an online Request for Quotation Form.
Email: info@gassensor.com.cn
Required*
CONTACT SALES