EMAIL
Home > PRODUCT > Ultrasonic Oxygen Flow Sensor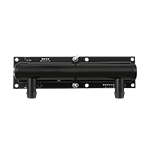 Ultrasonic Gas Flow Sensor
Gasboard-7500F
The Gasboard-7500F oxygen sensor is cost-effective and efficient sensor for measuring oxygen flow in binary gases. By adopting ultrasonic detecting technology, the sensor has remarkable characteristics, such as great stablity, quick response, no need calibration, maintenance-free, no drift etc.. The oxygen flow rate can be measured up to 40L/min, can be widely used in family and medical concentrator/generator.
Features
Measure Flow Rate of Binary Gas
Measured Flow Rate Up to 40L/min
Full Scale Matrix Temperature Compensation
Small size, Quick response, Stable, High Accuracy
Meet Medical and Other Special Requirements
Long Lifespan, Self-calibration, Maintenance-free
RoHS, REACH, CMC, EMC, CE Certificated
You can contact Cubic by telephone, mail or email , or you can submit an online Request for Quotation Form.
Email: info@gassensor.com.cn
Required*

Buy Our Products at Your Local Distributor
Add: Fenghuang No.3 Road, Fenghuang Industrial Park, Eastlake Hi-tech Development Zone, Wuhan, 430205, China
Tel: +86-27-81628827
Fax: +86-27-87401159
Email: info@gassensor.com.cn
© 2002-2022 Cubic Sensor and Instrument Co.,Ltd. All rights reserved.