EMAIL
Home > PRODUCT > Ultrasonic Oxygen Flow Sensor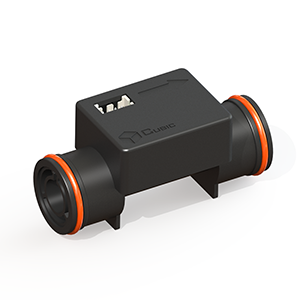 Ultrasonic Oxygen Sensor
Gasboard-8500FS-L40
Gasboard-8500FS-L40 is ultrasonic oxygen sensor and can measure flow rate, concentration, temperature, humidity in binary gases. The oxygen flow rate range is 0 to 40L/min. By adopting ultrasonic detecting technology and principle of TOF (time of flight) measurement, Gasboard-8500FS-L40 sensor has remarkable performances: high accuracy, fast response, continuous monitoring, no drift, no need routine calibration, maintenance-free, etc. Gasboard-8500FS-L40 sensor is very suitable for neonatal anesthesia machine and other medical equipment
Features
Ultrasonic measurement technology, for both oxygen concentration and flow rate up to 40L
Based on principle of TOF (time of flight) measurement, continuous monitoring, no drift, no need routine calibration, maintenance-free.
Excellent stability, high accuracy, fast response
Full scale matrix temperature and humidity compensation
No-consuming parts, long Lifespan
Small size, flexible installation
High performance-cost-ratio
Specifications
Note:
1. Here the response time means T63, defined at condition of flow rate≥10L/min
2. The defined accuracy is with 10 data moving average output.
3. Analog output is converted from digital output (PWM output), please review the pin map for analog output definition.
You can contact Cubic by telephone, mail or email , or you can submit an online Request for Quotation Form.
Email: info@gassensor.com.cn
Required*

Buy Our Products at Your Local Distributor
Add: Fenghuang No.3 Road, Fenghuang Industrial Park, Eastlake Hi-tech Development Zone, Wuhan, 430205, China
Tel: +86-27-81628827
Fax: +86-27-87401159
Email: info@gassensor.com.cn
© 2002-2022 Cubic Sensor and Instrument Co.,Ltd. All rights reserved.