EMAIL

Home > Product > CO2 Sensor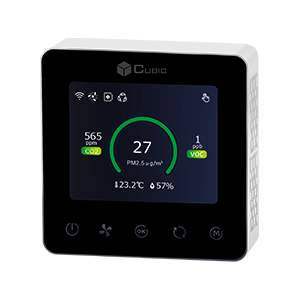 Integrated CO2 Sensor and Controller
AM6108B
AM6108
Wall mount integrated air quality HVAC controller AM6108B is a built-in IAQ sensor module. Users can get the real time data of the air quality, including particle concentration, CO2 level, VOC concentration, temp and humidity. Measuring data can be transferred to the host by RS485 or WiFi, to realize online air quality monitoring. It can be used to control the fan speed automatically to adjust fresh air flow rate, to keep indoor air quality at designed level.
Show More
Features
Real-time particle concentration, VOC, RH&T monitoring.
UI display for end users.
Measuring data transfer via WiFi available.
RS485 control output.
OEM available.
Specifications
CO2 Sensor CM1106-C
Measurement range
CO2: 0~5000ppm; PM2.5/PM10: 0~5000μg/m³;
Temp
-10℃~50℃
RH
0%~95%RH
PM accuracy
PM2.5: ≤100μg/m³; ±10μg/m³, >100μg/m³: ±10% of reading
PM10: ≤100μg/m³; ±25μg/m³, >100μg/m³: ±25% of reading (25℃±2℃, 50±10%RH, GRIMM, Cigarette+Arizona A1)
CO2 accuracy
±(50ppm+5% of reading)@-10~50℃
Temp accuracy
±1℃
Humidity
±8%RH
Working temperature
-10℃~50℃,0~95%RH(non-condensing)
Warm up time
<120s
Storage temperature
-20℃~60℃,0~95%RH(non-condensing)
Power supply
DC 12V
Signal output
RS485 control output
Dimension
W86*H86*D25(mm)
Show More
You can contact Cubic by telephone, mail or email , or you can submit an online Request for Quotation Form.
Email: info@gassensor.com.cn
Required*
CONTACT SALES