EMAIL

Home > Product > CO2 Sensor
Indoor Air Quality

Outdoor Environment

Health Medical

Automotive Electronics

Safety Alarm

Smart Metering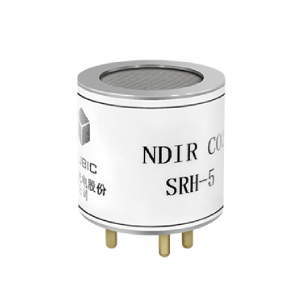 Industrial Grade CO2 Sensor
SRH Series
SRH
Miniature industrial grade NDIR CO2 sensor adopts NDIR technology to detect CO2 concentration in industrial applications. It adopts advanced non-dispersive infrared technology (NDIR), which can be integrated in safety and alarming devices, able to be used for CO2 incubator, greenhouse, environmental monitoring, HVAC, refrigerator, cold storage.The sensor contains all the necessary optics, electronics and firmware to provide a linearised, temperature compensated output. It is with a heated infrared source inside a small chamber. In this case, the inside temperature of the gas sensor is much higher than the outside which can avoid condensing events and the high humidity influence. Besides, the PCB inside the gas sensor is specially treated for corrosion protection.
Show More
Features
NDIR technology with long lifespan
Diffusion sampling, compact size, easy handling
High precision, less maintenance, fast response, stable performance
Internal temperature compensation
Corrosion prevention
Detectivity level at 100ppm
Ex-proofLevel ExiaⅡCT4
Specifications
| | CO2 Sensor CM1106-C |
| --- | --- |
| Measurement range | 0-5000ppm, 0-10000ppm, 0-20000ppm, 0-5%vol, 0-10%vol, 0-20% vol |
| Response time | T90<25s |
| Warm-up | 10s |
| Working temperature | -40℃~+70℃ |
| Storage temperature | -40℃~+85℃ |
| Working humidity | 0-95%RH(non condensing) |
| Working voltage | 3.3-6.0VDC |
| Working current | 55-60mA |
| Signal output | UART_TTL |
| Analogue output | 0.4V-2VDC |
| Dimensions | ¢20*19mm (except pin) |
| Weight | 15g |
Show More
You can contact Cubic by telephone, mail or email , or you can submit an online Request for Quotation Form.
Email: info@gassensor.com.cn
Required*
CONTACT SALES