EMAIL

Home > Product > Formaldehyde Sensor
Indoor Air Quality

Outdoor Environment

Health Medical

Automotive Electronics

Safety Alarm

Smart Metering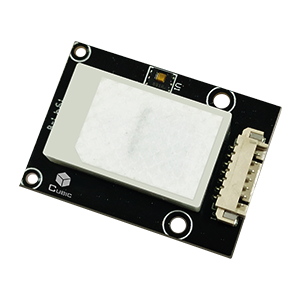 Formaldehyde Gas Sensor CB-HCHO-V4
CB-HCHO-V4
CB-HCHO-V4 is Cubic fourth generation formaldehyde gas sensor with electrochemical principle. It adopts a dual-channel structure design and unique electrolyte packaging technology for anti-interference. Through mathematical algorithms and scientific calibration, it can simultaneously output formaldehyde and TVOC. With built-in digital temperature and humidity sensor combined with intelligent algorithms, the concentration measurement is more accurate.
Show More
Features
High sensitivity up to 1ppb
HCHO, VOC in-one design
Full range temperature and humidity compensation
Unique dual-channel design, good anti-interference
Multiple communication methods:URAT、IIC、PWM
Lifetime can reach 3 years (in air)
Specifications
CO2 Sensor CM1106-C
Working principle
Electrochemical
Measurement range
HCHO: 0~1ppm;
VOC:0~10ppm(equivalent alcohol concentration);
TVOC: 0~10ppm(equivalent alcohol concentration);
HCHO measurement accuracy
±0.030ppm or ±10% reading, whicherver larger
Resolution
HCHO:1ppb;
VOC:0.01ppm;
TVOC:0.01ppm
Response time T90
50s (@25±2℃,50±10%RH)
Working condition
0~40℃;15~95%RH(Non-condensing)
Storage condition
-20~50℃;0~95%RH(Non-condensing)
Working voltage
DC(+3. 5V ~ +5.5V)
Working current
<15mA
Signal output
UART_TTL(3.3V);IIC(Reserved);PWM(Reserved)
Dimensions
W23*H32*D7(mm)
Lifetime
3 years (@0.1ppm Formaldehyde concentration)
Show More
You can contact Cubic by telephone, mail or email , or you can submit an online Request for Quotation Form.
Email: info@gassensor.com.cn
Required*
CONTACT SALES