EMAIL

Home > Product > CO2 Sensor
Indoor Air Quality

Outdoor Environment

Health Medical

Automotive Electronics

Safety Alarm

Smart Metering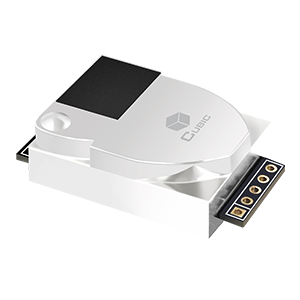 High Accuracy NDIR CO2 Sensor
CM1106H-NS
CM1106H-NS
High accuracy with ±(30ppm+3% of reading) CO2 sensor CM1106H-NS can be used to detect CO2 concentration of indoor air by adopting advanced non-dispersive infrared technology (NDIR). With auto-calibration, no need of maintaince. It is widely used in ventilation system, air conditioner, air purifier, IAQ monitor, agriculture, plant cultivation and cold-chain, etc.
Show More
Features
NDIR technology with independent intellectual property
Temperature calibration within whole measurement range
Long life span, auto-calibration, maintenance free
Small size and compact structure, easy to install
Specifications
CO2 Sensor CM1106-C
Measurement range
PWM: 0-2000ppm
UART/ I²C: 0-10000ppm (Note 1)
Working temperature
-10°C ~ 50°C
Working humidity
0-95%RH (non-condensing)
Storage temperature
-30°C ~ 70°C
Storage humidity
0-95%RH (non-condensing)
Accuracy
± (30ppm+3% of reading) @ -10°C~50°C ,0-85%RH
UART/ I²C /PWM: 0-2000ppm (Note 2 and 3)
Sampling frequency
1s
Response time
≤ 30s
Power supply
DC 4.5V~5.5V
Ripple wave
<50mV
Working current
<50mA
Dimensions
33x19.7x8.9mm (pin is not included)
Weight
5g
Signal output
UART_TTL /I²C/PWM
Life span
≥15 years
Maintenance
Maintenance-free for normal indoor application with Auto-calibration
Note 1:Sensor is designed to measure in the range 0~2000ppm (PWM),0-10000ppm (UART_TTL/I²C) with specified in the table accuracy. Nevertheless exposure to concentrations below 400ppm may result in incorrect operation of ABC algorithm and shall be avoided for model with ABC ON.
Note 2: In normal IAQ applications, accuracy is defined with -10°C -50°C ,0-85%RH and after minimum two (2) ABC periods of continuous operation with ABC on. Some industrial applications do require maintenance. Contact Cubic for further information.
Note 3: Specification is referenced to certified calibration mixtures. Uncertainty of calibration gas mixtures (±2% currently) is to be added to the specified accuracy for absolute measurement.
* The above features and specifications are preliminary version. Some contents might be changed before the product is mass-production.
To get more technical information, please contact
info@gassensor.com.cn
.
Show More
You can contact Cubic by telephone, mail or email , or you can submit an online Request for Quotation Form.
Email: info@gassensor.com.cn
Required*
CONTACT SALES