EMAIL
Home > PRODUCT > Gas Analyzer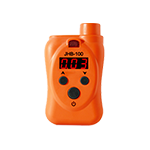 Handheld Infrared Methane Gas Detector JHB Series
JHB series infrared methane alarm detector is in compliance with mining products certification, it is mainly applied in coal mine, natural gas, CBM (Coal bed methane), rubbish filling, sewage treatment, anaerobic fermentation and other fields for CH4 gas leakage detection. Infrared gas filter technique, CH4 measurement can not be interfered by other gas compositions.
Features
Independent intellectual property rights of infrared gas analysis technology.
Dual-range setting with high concentrations of methane gas leak detection and alarm function.
High and low alarm points can be customized settings.
Air auto-zero calibration feature.
Proliferation Sampling.
Fast response.
LED digital tube display real-time gas concentrations.
Rechargeable lithium battery.
Small size, simple operation.
Specifications
| | CO2 Sensor CM1106-C |
| --- | --- |
| Measurement method | NDIR |
| Range | CH4: 0-5%vol [0-100%LEL), 0-1 00%vol |
| Warm-up time | 30s |
| Accuracy | For range 0-1%vol: +0.06%;For range 1-100%vol: +6% of reading;For range 0-100%LEL: +5% LEL . |
| Response time | T90< 25s at 20C |
| Working voltage | DC 3.7V; 1300mAh lithium battery |
| Signal output | LED display, audible-visual alarming |
| Woking temperature | -20~55℃ |
| Dimension | 100*68*31.5mm |
| Stand-by time | ≥10 hrs |
| Lifespan | ≥10 years |
You can contact Cubic by telephone, mail or email , or you can submit an online Request for Quotation Form.
Email: info@gassensor.com.cn
Required*

Buy Our Products at Your Local Distributor
Add: Fenghuang No.3 Road, Fenghuang Industrial Park, Eastlake Hi-tech Development Zone, Wuhan, 430205, China
Tel: +86-27-81628827
Fax: +86-27-87401159
Email: info@gassensor.com.cn
© 2002-2023 Cubic Sensor and Instrument Co.,Ltd. All rights reserved.