EMAIL
Home > PRODUCT > Gas Analyzer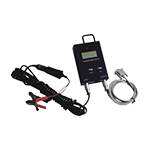 Engine RPM Sensor Based on Cigar Lighter Gasboard-8010
Gasboard—8010 can work independently or apply in combination with opacity meter, exhaust gas analyzer or others. It adopts advanced DSP technology together with signal spectrum analysis approach to detect rpm. This instrument is high-precision, reliable, easy to install. It doesn't need vibration sensor or pincers for engine cylinder line. Only by connecting to power source system can it measure engine rpm. It is the only one proprietary RPM sensor based on auto cigar lighter in present China. Cigar lighter RPM sensor is not only applicable to gasoline vehicle but also applicable to diesel vehicle.
Features
Used for engine's RPM measurement of gasoline, diesel, and natural gas.
Directly connected to Cigar lighter or battery to measure its RPM without any sensor.
RS-232 interface and LCD display
Universal, connective to any exhaust gas analyzer and Opacity meter.
Standard signal interface Such as TTL or RS232
Standard accessories include cigar lighter connection cable 5m, clamp(battery), RS232 cable, user manual.
Specifications
| | CO2 Sensor CM1106-C |
| --- | --- |
| Engine type | 2,4 stroke, 1-12 cylinder |
| Measuring range | 400-9999RPM |
| Maximal error | 20RPM or relative 1% |
| Response time | < 1 second |
| Signal output | TTL or RS-232 |
| Power supply | Cigar lighter or battery 9-15V DC |
| Working temperture | 5~45℃ |
| Dimension | 144*98*40mm |
| Weight | 350g |
You can contact Cubic by telephone, mail or email , or you can submit an online Request for Quotation Form.
Email: info@gassensor.com.cn
Required*

Buy Our Products at Your Local Distributor
Add: Fenghuang No.3 Road, Fenghuang Industrial Park, Eastlake Hi-tech Development Zone, Wuhan, 430205, China
Tel: +86-27-81628827
Fax: +86-27-87401159
Email: info@gassensor.com.cn
© 2002-2023 Cubic Sensor and Instrument Co.,Ltd. All rights reserved.