EMAIL

Home > Product > Gas Analyzer
Indoor Air Quality

Outdoor Environment

Health Medical

Automotive Electronics

Safety Alarm

Smart Metering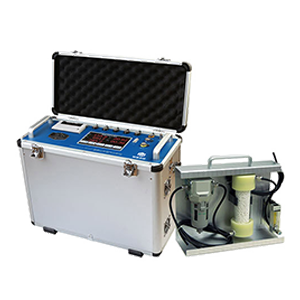 Portable Infrared Flue Gas Analyzer Gasboard-3800P
Gasboard-3800P
It is portable type and used to measure concentration of SO2, NO, CO, CO2 and O2 from stack or boiler emission gases, in which SO2, NO, CO and CO2 are measured by micro-flow infrared sensors and O2 by electrochemical sensor, with optional gas temperature, pressure, velocity etc, calculating combustion efficiency, lambda, etc.
Show More
Features
Integrate heated sampling probe and sampling hose.
Built-in heated filter, prevent sampling loss.
Max working temperature 200℃.
Smart design, safe and reliable.
Filter element: 2 um
Length: 3m
Power supply: 220V
Power consumption: 330W
environmental temperature: -40℃—140℃
Gas analyzer features:
Innovative micro-flow NDIR technology.
Measure SO2, NO,CO,CO2,O2 and optional temperature, pressure and flow.
Less interference of H2O for SO2 and NO measurement.
Built-in zero pump and auto zero calibration with fresh air.
Optional printer.
Calculation of Lambda and combustion efficiency.
Touch screen.
USB output.
Gas conditioning system features:
Efficient peltier dehumidifiers for humidity measurement of low concentrations.
PID temperature control.
Needle valve flow control.
Built-in sampling pump and peristaltic pump.
Specifications
CO2 Sensor CM1106-C
Response Time(T90)
<10s(NDIR)
Warm-up Time
30minutes
Communication Interface
RS232
Work Temperature
0-50℃
Relaive Humidity
5-85%
Ambient Pressure
86-108kPa
Measurement
SO2, NO, CO, CO2, 02
Technology
SO2, NO, CO, CO2(Micro-flow NDIR)
02(Electrochemical)
Range
SO2:0-2000ppm; NO:0-2000ppm; CO:0-5000ppm; CO2:0-25%;02:0-25%
(Note:measurement range can be customized)
Resolution
SO2, NO, CO:1ppm; CO2, O2:0.01%
Precision
SO2, NO, CO, CO2 ≤±2%; O2≤±3%
Repeatability
SO2, NO, CO, CO2, 02≤1%
Zero/Spandrift
SO2, NO, CO, CO2≤±2%;O2≤±3%
Power Supply
AC 220V 50Hz±1Hz
Show More
You can contact Cubic by telephone, mail or email , or you can submit an online Request for Quotation Form.
Email: info@gassensor.com.cn
Required*
CONTACT SALES