EMAIL

Home > Product > CO2 Sensor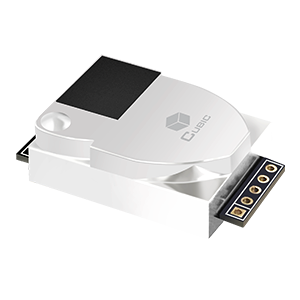 High Accuracy NDIR CO2 Sensor
CM1106H-NS
CM1106H-NS
High accuracy with ±(30ppm+3% of reading) CO2 sensor CM1106H-NS can be used to detect CO2 concentration of indoor air by adopting advanced non-dispersive infrared technology (NDIR). With auto-calibration, no need of maintaince. It is widely used in ventilation system, air conditioner, air purifier, IAQ monitor, agriculture, plant cultivation and cold-chain, etc.
Show More
Features
NDIR technology with independent intellectual property
Temperature calibration within whole measurement range
Long life span, auto-calibration, maintenance free
Small size and compact structure, easy to install
Specifications
Note 1:Sensor is designed to measure in the range 0~2000ppm (PWM),0-10000ppm (UART) with specified in the table accuracy. Nevertheless exposure to concentrations below 400ppm may result in incorrect operation of ABC algorithm and shall be avoided for model with ABC ON.
Note 2: In normal IAQ applications, accuracy is defined with -10°C -50°C ,0-85%RH and after minimum two (2) ABC periods of continuous operation with ABC on. Some industrial applications do require maintenance. Contact Cubic for further information.
Note 3: Specification is referenced to certified calibration mixtures. Uncertainty of calibration gas mixtures (±2% currently) is to be added to the specified accuracy for absolute measurement.
* The above features and specifications are preliminary version. Some contents might be changed before the product is mass-production.
To get more technical information, please contact
info@gassensor.com.cn
.
Show More
You can contact Cubic by telephone, mail or email , or you can submit an online Request for Quotation Form.
Email: info@gassensor.com.cn
Required*
CONTACT SALES