EMAIL

Home > Product > Oxygen And Flow Sensor
Indoor Air Quality

Outdoor Environment

Health Medical

Automotive Electronics

Safety Alarm

Smart Metering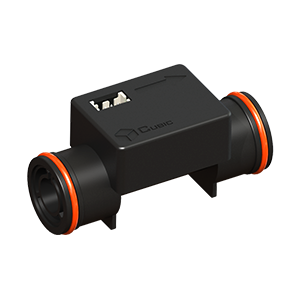 Ultrasonic Oxygen Sensor
Gasboard-8500FS-L40
Gasboard-8500FS-L40
Gasboard-8500FS-L40 is ultrasonic oxygen sensor and can measure flow rate, concentration, temperature, humidity in binary gases. The oxygen flow rate range is 0 to 40L/min. By adopting ultrasonic detecting technology and principle of TOF (time of flight) measurement, Gasboard-8500FS-L40 sensor has remarkable performances: high accuracy, fast response, continuous monitoring, no drift, no need routine calibration, maintenance-free, etc. Gasboard-8500FS-L40 sensor is very suitable for neonatal anesthesia machine and other medical equipment
Show More
Features
Ultrasonic measurement technology, for both oxygen concentration and flow rate up to 40L
Based on principle of TOF (time of flight) measurement, continuous monitoring, no drift, no need routine calibration, maintenance-free.
Excellent stability, high accuracy, fast response
Full scale matrix temperature and humidity compensation
No-consuming parts, long Lifespan
Small size, flexible installation
High performance-cost-ratio
Specifications
CO2 Sensor CM1106-C
Detect Principle
Ultrasonic Technology
Detection Range
O2 Concentration: 0%~100%
O2 Flow Rate: 0-40L/min
Pressure Drop
200Pa @40L/min flow rate
Sampling Interval
10ms (100 data per second)
Detection Accuracy¹
O2 Concentration: ±2.5%FS@(10~40)℃;0~40%RH
±3%FS @(5~45)℃;0~95%RH (non-condensing)
Flow Rate: ±0.10L/min (<5L/min)
±2.0% reading (≥5L/min)
Resolution
O2 Concentration: 0.1% vol
Flow Rate: 0.01L/min
Response Time²
O2 Concentration: <0.1s
Flow Rate: <10ms
Work Condition
5~45℃, 0~95%RH (Non-condensing)
Storage Condition
-20~70℃; 0~95%RH (Non-condensing)
Power Supply
DC 4.75-12.6V, Ripple Wave ≤50mV
Work Current
Average Current <20mA; Peak Current <50mA
Analog output³
O2 Concentration: 0.2-2.5V
Flow Rate: 0.2-2.5V
Communication
UART_TTL (3.3V)
Dimension
L64*W28*H32 (mm)
IP Grade
IP54
Life Span
≥15 years
Compensation
Integrated temperature and humidity sensor, compensation correction, to ensure the accuracy of detection
Note:
1. Here the response time means T63, defined at condition of flow rate≥10L/min
2. The defined accuracy is with 10 data moving average output.
3. Analog output is converted from digital output (PWM output), please review the pin map for analog output definition.
Show More
You can contact Cubic by telephone, mail or email , or you can submit an online Request for Quotation Form.
Email: info@gassensor.com.cn
Required*
CONTACT SALES