The China Sensors and Internet of Things Industry Alliance held the "Smart World Perceives the Future" China Smart Sensing Conference and SIA Perception Leading Excellent Project Line Commendation Conference on November 19, 2020. Cubic dust sensor PM3006 won the first application innovation outstanding project award.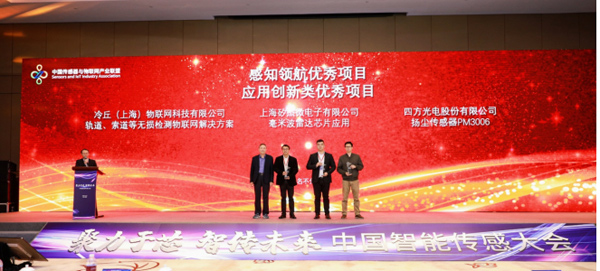 Under the current environmental background, mastering core technologies and achieving innovation and breakthroughs have extraordinary value and significance. Dr. Xiong Youhui, Chairman of Cubic Sensor and Instrument Co.,Ltd, said: The outdoor dust sensor and outdoor monitoring integrated solutions can stand out among many participating projects, which shows that our products are highly recognized by market customers and the industry. This will also encourage our experts to work hard in the future and insist on continuous technological development and innovation.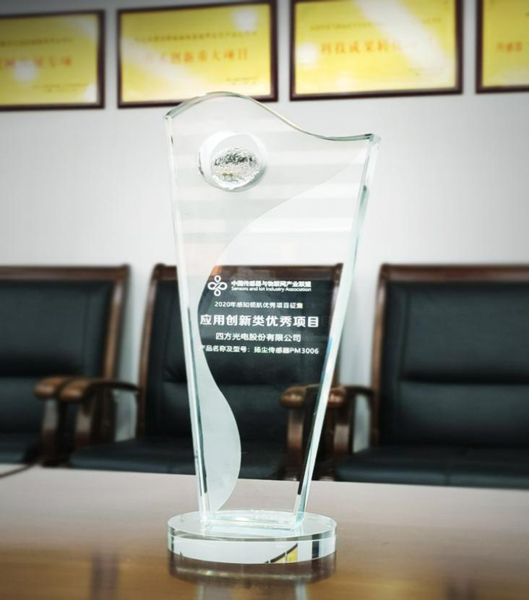 Challenges and difficulties of outdoor particulate monitoring
1) On-Site dust monitoring
2020 is the year to win the battle to defend the blue sky and the 13th Five-Year Plan. Our country's air pollution control has entered the "deep water period", and the rest are hard-to-eat "hard bones". As a key and difficult point for a long time, the control of dust pollution has become one of the key points for the completion of the air pollution control target.
2) Urban grid monitoring
In 2018, the Environmental Protection Agency in China released our country's plan to implement grid-based environmental supervision and gradually achieve full coverage from key areas. The relevant trial standard "Technical Guidelines for Atmospheric PM2.5 Grid-based Monitoring Point Layout (Trial)" is also gradually released. Using an accurate and scientific grid monitoring system to control air pollution can effectively improve the efficiency of environmental governance. The core of the grid system is the effective monitoring of PM2.5 and PM10.
Construction site dust and urban grid monitoring are an important part of air pollution prevention and control. The core sensor for detection in the monitoring system is especially important. It must have the three characteristics of scientific reliability of the product, completeness of application and economic applicability. In the field of outdoor dust and grid monitoring in China, the monitors of weighing method and β-ray absorption method were used in the early stage. However it could not realize online real-time monitoring. The investment cost and maintenance cost is high so that it did not get widespread application in the market. Also the residential laser dust sensor in civil air purifiers could not be used in the outdoor temperature environment of -30~70℃. Since the outdoor environment often encounters frost and dew, the water vapor entering the sensor will seriously affect the measured value, and even cause permanent damage to the sensor. Residential laser dust sensors have low laser power and low sampling flow, and PM10 recognition rate is very low. Civil laser sensors usually calculated PM10 concentration based on the number of PM2.5, resulting in distortion of PM10 monitoring data.
Cubic outdoor air quality series sensors help the effective implementation of air pollution control
Cubic has developed the dust sensor-PM3003 and PM3006 series products through the accumulation of laser scattering detection technology (LSD) for nearly 10 years and the grasp of the real needs of customers in the application market, which use wide-temperature high-power linear laser light sources , API dust automatic identification technology, advanced flow channel design to achieve anti-pollution, high humidity environment water mist removal device, etc., innovative low-cost to achieve accurate measurement of outdoor dust, PM2.5 and PM10 real-time monitoring value and β-ray absorption method monitoring equipment, the correlation of accurate measurement can reach more than 0.9.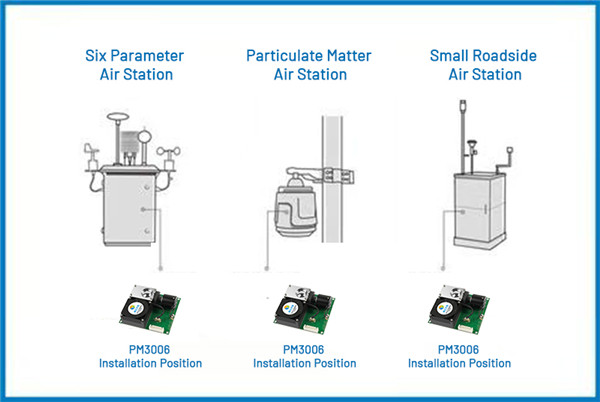 In order to better meet the design and measurement needs of customers, Cubic has developed an online dust monitoring module based on the core sensor, which facilitates the design of the monitoring system easier and faster for customers, greatly shortening the development cycle.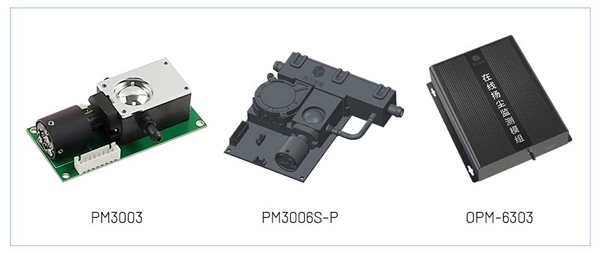 PM3003 product features:
1. Intelligent Dust Source Identification Technology (API), which can effectively identify particles with six channels of 0.3μm/0.5μm/1.0μm/2.5μm/5.0μm/10μm;
2. Satisfy the requirements of wide temperature range of -30~70℃
3. Air pumps with different flow rates can be configured according to usage requirements.
PM3006S-P product features:
1. Innovative side flow design, the measurement accuracy is completely unaffected by the change of gas flow, and it can be used under various conditions;
2. Pluggable fan design, customers can flexibly configure airflow control equipment according to actual needs;
3. Accurate measurement of PM2.5 and PM10, linear correlation with β equipment> 0.9.
OPM-6303 product features:
1. Real-time online monitoring ofPM2.5/PM10/TSP;
2. The measurement is accurate, and thecorrelation with β ray>0.9;
3. Built-in Cubic self-made ultrasonic flowsensor, which can monitor the flow in real time and realize constant flowcontrol;
4. Built-in dehumidification pretreatmentdevice to ensure that the product is not affected by water vapor in the harshoutdoor environment;
5. Obtained CPA measurement certification.
On the basis of the outdoor particulate matter sensor and module product series, the solutions in different application fields are as follows:
1) Grid micro-station solution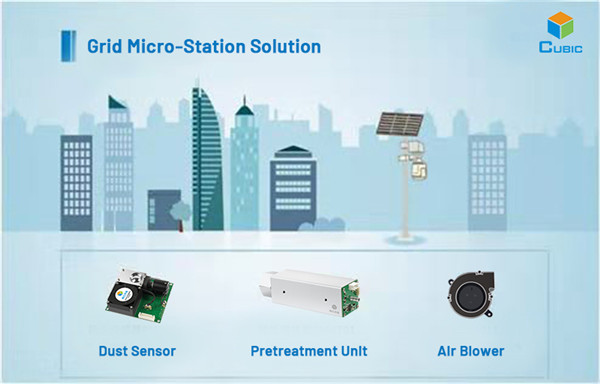 2) Light scattering dust sensor monitoring solution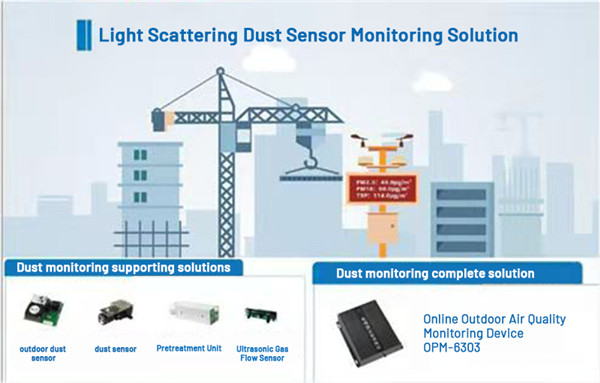 3) Provide customers with complete solutions and certification services
Based on the core sensor modules, Cubic with its electronic control design and software development capabilities, can provide customers with comprehensive solutions for the product design and mass production of the entire machine, including supporting technical services such as filtration and dehumidification devices, flow monitoring and stabilization. At the same time, it can assist and guide customers in the whole process to complete the CPA certification of the whole machine, and help customers' products to be mass-produced and listed as soon as possible.
4) Efficient customer service model
The gas sensor has high technical content and strict quality requirements. It is the core component of the customer's complete system. Customers are often very cautious when choosing such products. On the one hand, they will conduct in-depth technical exchanges with suppliers to ensure that products with superior performance are selected. On the other hand, they will also carry out a full range of sensor performance and reliability verification work.Starting from customer needs, Cubic sets up product managers to be responsible for technical exchanges and program selection outside the sales and business teams, field application engineers are responsible for pre-sales, in-sales and after-sales technical support, and project managers are responsible for the development and transfer of long-term projects. Mass production and other comprehensive professionals have established a comprehensive customer-centric service model.
About Cubic
Cubic was established in 2003 in "Wuhan-Optics Valley, China". It is a high-tech enterprise specializing in R&D, production and sales of gas sensors and gas analysis instruments. Xiong Youhui, chairman and founder of Cubic Sensor and Instrument Co., Ltd, is a PhD in thermal engineering from Huazhong University of Science and Technology, a professor-level senior engineer, and an expert with special allowances from the State Council.
Cubic has developed gas transmission based on the principles of non-dispersive infrared (NDIR), light scattering detection (LSD), ultrasonic (Ultrasonic), ultraviolet differential absorption spectroscopy (UV-DOAS), thermal conductivity (TCD), laser Raman (LRD), etc. The sensor technology platform has formed two major types of industrial ecology, gas sensors and gas analysis instruments, and dozens of different products, which are widely used in home appliances, automobiles, medical treatment, environmental protection, industry, energy measurement and other fields at home and abroad.
Cubic is the first batch of intellectual property demonstration construction enterprises in Hubei Province. It has established the Hubei Province Gas Analysis Instrumentation Engineering Technology Research Center and the Hubei Province Enterprise Technology Center. It has undertaken the national major scientific instrument and equipment development special projects, the Ministry of Industry and Information Technology Internet of Things development special projects and other national technologies Development project. As of the end of August 2020, the company and its subsidiaries have 101 domestic and foreign registered patents, including 99 domestic and 2 foreign patents. There are 33 invention patents (31 domestically, 2 overseas). The company and its subsidiary Hubei are determined to be selected as a demonstration enterprise for the "one-stop" application plan of industrial strong base sensors by the Ministry of Industry and Information Technology in 2019. With long-term technological accumulation, good product performance and international vision, the company has obtained the recognition of many well-known domestic and foreign companies, and the products are sold throughout the country and exported to many countries and regions.