EMAIL
Home > PRODUCT > Automotive O₂ & NOₓ Sensor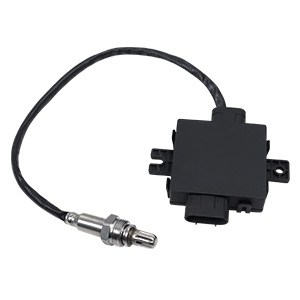 Diesel Particulate Filter Soot Sensor
The Soot sensor is installed downstream of the diesel particulate filter (DPF), which can ensure reliable monitoring of the diesel particulate filter, it helps to reduce particulate emissions by 99%, and purify the exhaust gas to meet the emission standards.
Features
Covering multiple series of car models
System expertise covers diagnostic functions and sensors
Meet the requirements of stable sensor signals, high accuracy and long service life under various atmosphere environments during vehicle driving
Specifications
CO2 Sensor CM1106-C
Measurement range
0< PM concentration< 25mg/m³
Accuracy
+/- 1,5mg / m³(rang<10mg / m³)
+/- 15% (rang>10mg / m³)
Max. gas temperature
Regeneration up to 850°continuously,
peak temperature: up to 950°C for 5 x 60 sec,
during sensor operation < 400°C
Exhaust pressure
≤2.5bar
Storage temperature
ECU: -40℃-115℃;
Unpowered: -40℃-95℃;
Response time
t[10-90] <20sec
Light-off time
<750sec @soot concentration of 3 mg /m³
<300sec @soot concentration 8 mg /m³
You can contact Cubic by telephone, mail or email , or you can submit an online Request for Quotation Form.
Email: info@gassensor.com.cn
Required*

Buy Our Products at Your Local Distributor
Add: Fenghuang No.3 Road, Fenghuang Industrial Park, Eastlake Hi-tech Development Zone, Wuhan, 430205, China
Tel: +86-27-81628827
Fax: +86-27-87401159
Email: info@gassensor.com.cn
© 2002-2023 Cubic Sensor and Instrument Co.,Ltd. All rights reserved.