EMAIL
Home > PRODUCT > Automotive O₂ & NOₓ Sensor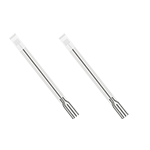 NOx Sensor Chip
High quality flat chip, using the advanced ceramic technology, so that the product running to the working temperature speed is twice as much as the traditional finger type; Thus emissions during the harsh cold start phase can be reduced in half; Multi-layer sensor with integrated heater can maintain accurate performance after long-term use.
Features
Faster startup time
Low heating power
low driving cost
Reduce dependence on exhaust temperature
Double protection of pipe head to prevent various impacts
Good anti-aging performance
Superior anti-coating type and anti-toxicity
Compact structure (excellent anti-high-frequency vibration performance)
Longer service life
Specifications
| | CO2 Sensor CM1106-C |
| --- | --- |
| Measuring range | 0~3076ppm |
| Operation temperature | -40℃~1000℃ |
| Ambient temperature | 40℃~105℃ |
| Standard supply voltage | 12V/24V |
| CAN communication Baud rate | 250k |
| CAN transmission cycle | 50msec |
You can contact Cubic by telephone, mail or email , or you can submit an online Request for Quotation Form.
Email: info@gassensor.com.cn
Required*

Buy Our Products at Your Local Distributor
Add: Fenghuang No.3 Road, Fenghuang Industrial Park, Eastlake Hi-tech Development Zone, Wuhan, 430205, China
Tel: +86-27-81628827
Fax: +86-27-87401159
Email: info@gassensor.com.cn
© 2002-2023 Cubic Sensor and Instrument Co.,Ltd. All rights reserved.