EMAIL
Home > PRODUCT > Ultrasonic Gas Meter & Module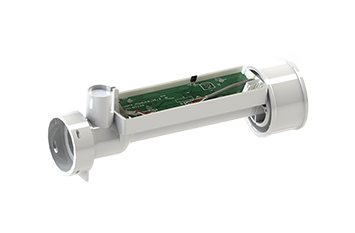 Residential Ultrasonic Gas Meter Module
USM-G2.5M/G4M
Based on ultrasonic gas flow sensor technology, USM-G2.5M/G4M adopts patented L shape gas flow channel, the effective distance between two transducers are long, which facilitates the measurement accuracy, it's also anti-contamination that guarantees high stability . USM-G2.5M/G4M is used for assembling residential natural gas meters.
Features
Patented L-shape structure based on ultrasonic technology
Stable flow field distribution;
High sensitivity and accuracy with intelligent software algorithm for Air,100% CH4 and different natural gases
Anti-contamination that ensures long-term accuracy;
Low pressure loss due to absence of obstructing objects within flow path;
No moving parts, noiseless operation, no mechanical wear;
Low power consumption;
UART/TTL interface with direct output for connection;
Small size which permits compact designs;
Mass production capacity;
Compliant to OIML R137 and EN14236 class 1.5.
Specifications
CO2 Sensor CM1106-C
Measurement Range
USM-G2.5M: 0.025~4 m³/h [0.88~ 141.26 ft³/h]
USM-G4M: 0.04~6 m³/h [1.41~ 211.88 ft³/h]
Accuracy
Class 1.5
Error
Qmin≤Q<0.1Qmax: ±3%;
0.1Qmax≤Q≤Qmax:±1.5%
Power Supply
3~3.6VDC
Power Consumption
MAX: 350mAh/year (40uA/h) (VCC=3.6V)(at: 25℃ or 77℉)
Temperature Measurement
YES
Working Pressure
0~50kPa / 0~7.25psi
Pressure loss
200pa / 0.029psi or less (at Qmax)
Working Temperature
-25℃~55℃ / -77℉~131℉
Storage Temperature
-30℃~70℃ / -86℉~158℉
Working Humidity
≤95% RH without condensation
You can contact Cubic by telephone, mail or email , or you can submit an online Request for Quotation Form.
Email: info@gassensor.com.cn
Required*

Buy Our Products at Your Local Distributor
Add: Fenghuang No.3 Road, Fenghuang Industrial Park, Eastlake Hi-tech Development Zone, Wuhan, 430205, China
Tel: +86-27-81628827
Fax: +86-27-87401159
Email: info@gassensor.com.cn
© 2002-2023 Cubic Sensor and Instrument Co.,Ltd. All rights reserved.