EMAIL
Home > PRODUCT > Automotive O₂ & NOₓ Sensor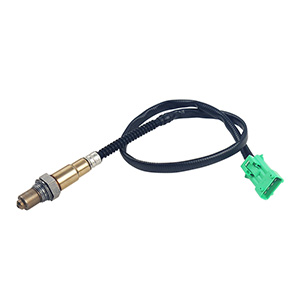 LSF 4.2 Switch Type Oxygen Sensor
Cubic switch type oxygen sensor ST is also called as four-wire oxygen sensor, it is a planar 2-state λ=1 sensor of ZrO2 (Nernst-principle) with an integrated heater. The sensor contains 4 wires, in which two wires are for heaters, the other two wires are for transmitting voltage signals.
Features
Independent R&D and production of chips
Short light-off time
Low heating power
Less dependent on exhaust temperature (conducive to the stability in different operating situations)
Double protection on the top of tube to confront impact
Good aging resistance
Anti-coating and anti-poisoning
Compact structure (high anti-vibration level)
Longer duration
Independent R&D and production for ceramic/zirconia oxide ZrO2 chips
Covering multiple series of car models.
Strong ODM/OEM capacity, cover multiple series of car models
Specifications
CO2 Sensor CM1106-C
Heater resistance
9±1.5Ω
Operating voltage
12V
Maximum heating current
1.0A
Accuracy
λ=0.93-0.97 ( 350° ): 800±55mv;
λ=1.05-1.10 ( 350° ): 50±30mv;
Response time
600mV-300mV:<125ms
300mv-600mv:<60ms;
Operating temperature / Exhaust gas temperature
150~930°C
Storage Temperature
-40°C~+90°C
Light-off time
<15S
You can contact Cubic by telephone, mail or email , or you can submit an online Request for Quotation Form.
Email: info@gassensor.com.cn
Required*

Buy Our Products at Your Local Distributor
Add: Fenghuang No.3 Road, Fenghuang Industrial Park, Eastlake Hi-tech Development Zone, Wuhan, 430205, China
Tel: +86-27-81628827
Fax: +86-27-87401159
Email: info@gassensor.com.cn
© 2002-2023 Cubic Sensor and Instrument Co.,Ltd. All rights reserved.