EMAIL
Home > PRODUCT > IAQ Controller & Monitor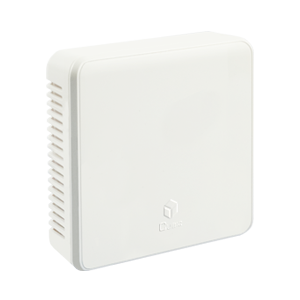 Wall-Mount CO2 Transmitter
AM6208W
Cubic Wall-Mount CO2 Transmitter is a cost-effective CO2 sensor with high precise detection, designed to be installed in areas with HVAC system such as office buildings, hospitals or school classrooms, to realize real-time carbon dioxide level monitoring. With industry-standard outputs, it is used in determining ventilation necessity and it is the foundation of a complete ventilation control system. It helps to control the amount of fresh air supplied to maintain comfortable and health indoor air environment.
With ABC(Automatic Baseline Correction) function, Cubic wall-mount carbon dioxide transmitter will keep tracking the lowest reading during the ABC cycle and realize automatic calibration. Therefore, the device is able to stay with long-term good and stable performance, almost no drift.

Features
Reliable non-dispersion infrared (NDIR) technology for CO2 sensing
Real-time CO2 monitoring
High accuracy, in conformity with RESET Standard Grade A & California Title 24
Optimized auto baseline correction, maintance-free
Flexible industrial standard analog output: 0-10 VDC, 4-20mA
Long lifespan≥15years
PM,VOC,RH&T available
OEM/ODM available(sensor configuration, appearance design, PCBA design, output signal, communication protocol etc)
Specifications
| | CO2 Sensor CM1106-C |
| --- | --- |
| Operating principle | NDIR |
| Measurement range | 0~5000ppm |
| Accuracy | ±(30ppm+3% of reading)@0~50℃,0~2000ppm |
| Resolution | 1ppm |
| Data interval | 1s |
| Power supply | 24VAC/DC±10% |
| Analog output | 0~10V, 4~20mA(500Ω max) |
| Working temperature | -10℃~50℃ |
| Working humidity | 0~95%RH(non-condensing) |
| Warm up time | <180s |
| Response time(T90) | ≤30s |
| Avarage current | ≤60mA |
| Standby current | ≤20mA |
| Storage condition | -20℃~70℃,0~95%RH(non-condensing) |
| Dimension | W86mm*H86mm*D24.9mm |
| Lifespan | ≥15years |
You can contact Cubic by telephone, mail or email , or you can submit an online Request for Quotation Form.
Email: info@gassensor.com.cn
Required*

Buy Our Products at Your Local Distributor
Add: Fenghuang No.3 Road, Fenghuang Industrial Park, Eastlake Hi-tech Development Zone, Wuhan, 430205, China
Tel: +86-27-81628827
Fax: +86-27-87401159
Email: info@gassensor.com.cn
© 2002-2023 Cubic Sensor and Instrument Co.,Ltd. All rights reserved.