EMAIL
Home > PRODUCT > OEM Module & Monitor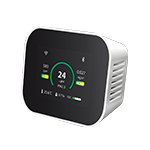 Air Quality Monitor
AM7000
Air quality monitor AM7000 is OEM based intelligent desktop indoor air quality monitor with fashionable and compact design. It could integrate high quality air quality sensor module, which can monitor indoor air quality and output real-time data of PM2.5,CO2, HCHO, VOC, RH&T, etc.The Cubic APP and Cloud server is available.
Features
IoT wireless monitoring is available
Real-time output PM, CO2, RH&T, (VOC HCHO optional)
Desktop monitor, USB power supply
Wi-Fi & Bluetooth optional
Cubic APP & Cloud server coming soon
OEM/ODM is available(sensor configuration, appearance design, PCBA design, software development etc.)
Specifications
CO2 Sensor CM1106-C
Operating principle
CO2: non-dispersion infrared (NDIR); PM: Laser scattering,
HCHO/VOC: Electrochemical
Measurement range
CO2: 400~5000ppm; PM2.5: 0~999μg/m³
Temperature: -10°C~50°C; Relative Humidity: 0%~95%RH
Formaldehyde:0~1.000mg/m3,VOC:0-3level
CO2 accuracy
±(50ppm+5% of reading) /±(30ppm+3% of reading) is optional
PM accuracy
PM2.5: 0~100μg/m³, ±10μg/m³; >100μg/m³, ±10% of reading
(Refer to TSI 8530 25°C±2°C, 50±10%RH)
Temperature Accuracy
±1°C(0°C ~50°C)
Humidity Accuracy
±8%(0%~95%RH)
Formaldehyde Accuracy
<=0.100mg/m3:±0.03mg/m3
>0.100mg /m3:±30% of read
VOC Accuracy
No accuracy definition
UI Screen
Screen
Output
WiFI & Bluetooth Optional
Power supply
DC 5V
Working Condition
-10°C~50°C,0~95%RH(non-condensing)
Storage condition
-20℃~60℃,0~95%RH(non-condensing)
Dimension
W90*H85*D53(mm)
Cubic APP and Cloud is coming soon.
You can contact Cubic by telephone, mail or email , or you can submit an online Request for Quotation Form.
Email: info@gassensor.com.cn
Required*

Buy Our Products at Your Local Distributor
Add: Fenghuang No.3 Road, Fenghuang Industrial Park, Eastlake Hi-tech Development Zone, Wuhan, 430205, China
Tel: +86-27-81628827
Fax: +86-27-87401159
Email: info@gassensor.com.cn
© 2002-2022 Cubic Sensor and Instrument Co.,Ltd. All rights reserved.