EMAIL

Home > Product > OEM Module & Monitor
Indoor Air Quality

Outdoor Environment

Health Medical

Automotive Electronics

Safety Alarm

Smart Metering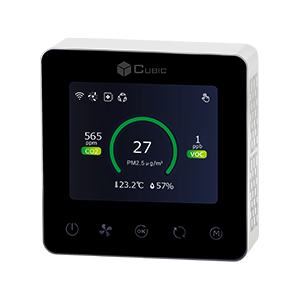 Wall mount HVAC Transmitter with Display
AM6108B
AM6108B
Wall mount HVAC transmitter AM6108B is a 5-in-1 built-in IAQ sensor with Modbus or BACnet. It can send control signal and deliver real-time indoor air quality data including particulate matter(PM1.0,PM2.5,PM10), carbon dioxide(CO2), VOC, temperature and humidity to building automation system, fan and valve can be adjusted accordingly, to keep indoor air quality at a comfortable level. Meanwhile, it also supports wireless data transmission via Wi-Fi, to realize online air quality monitoring.
Show More
Features
Modbus /BACnet protocol for choice
IoT wireless monitoring is available
HVAC system control function: Three levels of wind speed can be adjusted; Four working modes: intelligent, manual, mute, and time
Low power consumption
Standard configuration: CO2,PM,RH&T,VOC (Optional)
Compatible with touch-screen operation, device ID and baud rate can be set via surface
OEM/ODM is available(sensor configuration, appearance design, PCBA design, software development etc.)
Specifications
CO2 Sensor CM1106-C
Operating principle
CO2: non-dispersion infrared (NDIR);
PM: Light scattering
Measurement range
CO2: 0~5000ppm; PM2.5: 0~999μg/m³
Temperature: -10°C~50°C; Relative Humidity: 0%~95%RH
CO2 accuracy
±(50ppm+5% of reading) /±(30ppm+3% of reading) is optional
PM accuracy
PM2.5: 0~100μg/m³, ±10μg/m³; >100μg/m³, ±10% of reading (25°C±2°C, 50±10%RH)
Temperature Accuracy
±1°C(0°C ~50°C)
Humidity Accuracy
±8%(0%~95%RH)
UI Screen
Touch Screen
Output
Modbus-RTU or BACnet-MSTP or Wi-Fi
Power supply
12VDC~24VDC
Working Condition
-10°C~50°C,0~95%RH(non-condensing)
Storage condition
-20℃~60℃,0~95%RH(non-condensing)
Dimension
W86*H86*D25(mm)
Show More
You can contact Cubic by telephone, mail or email , or you can submit an online Request for Quotation Form.
Email: info@gassensor.com.cn
Required*
CONTACT SALES