Home > PRODUCT > OEM Module & Monitor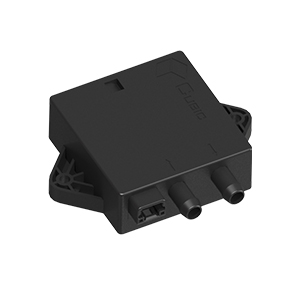 Integrated Air Quality Sensor
AIS-8100
AIS-8100 sensor is an integrated air quality sensor for vehicle air quality monitoring. By integrated PM sensing based on laser scattering technology and CO2 sensing based on advanced NDIR technology, AIS-8100 sensor can output accurate and fast PM2.5 and CO2 concentration measurement via CAN communication. It helps to give a real time vehicle in-cabin air quality monitoring, and provides a health and comfortable in-cabin environment for both drivers and passengers.
Features
PM2.5 and CO2 simutaneous output
Laser scattering technology adopted, the smallest size of available measurement: 0.3μm
Real-time PM2.5 output in μg/m3
NDIR technology adopted for high accuracy CO2 concentration measurement
Beneficial from built-in fan, CO2 level measurement is in faster response
Auto-calibration for CO2 sensing
High-temperature laser module , resistant up to 85℃
Long lifetime laser
Vehicle-level (AEC-Q compliance) circuit design can be suitable to the harsh vehicle environment
CAN real-time communication
Specifications
| | CO2 Sensor CM1106-C |
| --- | --- |
| Operating principle | PM: Laser light scattering;CO2: NDIR |
| Measured paride range | 0.3μm ~ 2.5μm |
| Measurement range | PM2.5: 5~500μg/m³; CO2: 400-5000ppm |
| Resolution | PM2.5: 1μg/m³; CO2:1ppm |
| PM2.5 accuracy | ±5μg/m³ or ±10% of reading |
| CO2 accuracy | ±5% of reading |
| Data refresh time | ≤1s |
| Digital output | CAN |
| IP rating | IP54 |
| Noise | ≤35dB(A)@50cm |
| Working condition | -40~+70C .5-95%RH (non-condensing) |
| Storage condition | -40~+85C ,5 -95%RH (non-condensing) |
| Power supply | DC 12V( DC 9V ~16 V compatible) |
| Working current | ≤150mA |
| Standby current | ≤100μA |
You can contact Cubic by telephone, mail or email , or you can submit an online Request for Quotation Form.
Email: info@gassensor.com.cn
Required*

Buy Our Products at Your Local Distributor
Add: Fenghuang No.3 Road, Fenghuang Industrial Park, Eastlake Hi-tech Development Zone, Wuhan, 430205, China
Tel: +86-27-81628827
Fax: +86-27-87401159
Email: info@gassensor.com.cn
© 2002-2022 Cubic Sensor and Instrument Co.,Ltd. All rights reserved.