EMAIL
Home > PRODUCT > Particulate Matter Sensor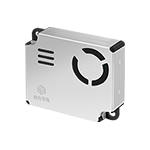 Laser Particle Sensor with Screw Hole
PM2008M-M
PM2008M-M add screw hole design laser particle sensor module is based on laser scattering technology, ultra-thin (12mm) designed with all metal shielding.Detecting particle concentration size between 0.3μ-10μm in the air and real-time output PM1.0、PM2.5、PM10 in μg/m3 via mathematical algorithm and scientific calibration.
Features
Hanging ear design for easy installation
Real-time output PM1.0, PM2.5, PM10 in μg/m3 available
All metal shielding, strong anti-interference
Smaller and thinner structure design, height only 12mm
High accuracy, High sensitive and quick response (≤8s)
Signal output optional: UART, I²C
Specifications
CO2 Sensor CM1106-C
Measured particle size
0.3μm~10μm
Measurement range
0~5000μg/m³
Accuracy
PM1.0/PM2.5: 0~35μg/m³ : ±5μg/m³ , 35ug/m³~500μg/m³ : ±15% of reading
PM10: 0~100μg/m³ : ±25μg/m³ ,101~500μg/m³: ±25% of reading
(GRIMM, 25±2℃, 50 ±10%RH)
Reference instrument
GRIMM
Dust Source
Cigarette +Arizona A1
Time to first reading
≤8s
Response time
1s
Working humidity
0~95%RH(non-condensing)
Working temperature
-10℃~60℃
Working humidity
0~95%RH(non-condensing)
Ripple wave
<50mV
Power supply
DC5V±0.1V
Working current
≤100mA(Working), ≤200uA(Standby)
Signal output
UART_TTL, I²C,PWM(customized)
Dimensions
W48*H40*D12mm
You can contact Cubic by telephone, mail or email , or you can submit an online Request for Quotation Form.
Email: info@gassensor.com.cn
Required*

Buy Our Products at Your Local Distributor
Add: Fenghuang No.3 Road, Fenghuang Industrial Park, Eastlake Hi-tech Development Zone, Wuhan, 430205, China
Tel: +86-27-81628827
Fax: +86-27-87401159
Email: info@gassensor.com.cn
© 2002-2023 Cubic Sensor and Instrument Co.,Ltd. All rights reserved.