EMAIL
Home > PRODUCT > Particulate Matter Sensor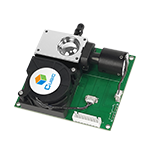 1LPM Laser Particle Count Sensor Module
PM5000S
Cleanroom particle counter sensor core module PM5000S is based on laser scattering technology, which can accurately detect and calculate the number of airborne particle with different particle sizes in the air. The sensor can simultaneously output quantity of particles in 6 channels including 0.3um, 0.5um, 1.0um, 2.5um, 5.0um and 10um (PCS/L).
Features
Output particle number (pcs/L) in 6 channels including 0.3um, 0.5um, 1.0um, 2.5um, 5.0um, 10um
High power industrial grade linear laser, accurate identification
Vehicle-grade constant current sampling structure fan, ensure constant stable sampling flow
Wide working temperature -30℃~70℃
With voltage regulator design and EMC compatibility, strong antistatic ability
Specifications
CO2 Sensor CM1106-C
Operating principle
Laser scattering
Measurement range
0~10,000,000 pcs/L (1pcs/L=28.3pcs/cf)
Output channels
>0.3μm, >0.5μm, >1.0μm, >2.5μm, >5.0μm, >10μm
Resolution
1 pcs/L
Count efficiency
50%@≥0.3μm, 100%@≥0.5μm
Condition: 25±2℃, 50±10%RH, calibration instrument TSI9306
Data refresh time
1sec
Time to first reading
≤ 8 seconds
Working condition
-30°C ~ 70°C, 0-95%RH (non-condensing)
Storage condition
-40°C ~ 85°C, 0-95%RH (non-condensing)
Power supply
DC 5V±0.1V, ripple wave < 50mV
Working current
<250mA
Standby current
<25mA
Dimensions
W85*H74*D24.9 mm
Digital output
UART_TTL/IIC(3.3V/5V)
Life span
>5 years(continuous working)
You can contact Cubic by telephone, mail or email , or you can submit an online Request for Quotation Form.
Email: info@gassensor.com.cn
Required*

Buy Our Products at Your Local Distributor
Add: Fenghuang No.3 Road, Fenghuang Industrial Park, Eastlake Hi-tech Development Zone, Wuhan, 430205, China
Tel: +86-27-81628827
Fax: +86-27-87401159
Email: info@gassensor.com.cn
© 2002-2023 Cubic Sensor and Instrument Co.,Ltd. All rights reserved.