The home environment is where people live most of the time, and good indoor air quality is a prerequisite for ensuring people's health. However, with the improvement of people's living standards, a large number of plates and paints are widely used in interior decoration. These materials will continue to slowly volatilize formaldehyde gas with a long release period which could be up to 15 years. Formaldehyde (HCHO) is a colorless gas with a strong pungent odor and high toxicity. Formaldehyde has been identified as a carcinogen and teratogenic substance by the World Health Organization. It is a recognized source of allergy and has a strong carcinogenic effect.
Contradictions in the formaldehyde purification market
"GBT 18883-2002 Indoor Air Quality Standard" stipulates that the concentration of indoor formaldehyde gas should be controlled below 0.1mg/m³. Although formaldehyde gas has a strong pungent odor, low-concentration formaldehyde gas cannot be accurately sensed by the human body, and it is easy to lurch around people for a long time and endanger health.
1. How to judge whether the environment in which you work and live is at a safe level?
2. When consumers buy formaldehyde purifiers, how to choose the suitable ones during dazzling formaldehyde purifiers?
3. After purchasing a formaldehyde purifier or having a formaldehyde removal company on-site visit to remove aldehyde, how can you clearly know the effect of formaldehyde removal? Is the indoor formaldehyde concentration after formaldehyde removal within a safe range?
Professional formaldehyde detection equipment is expensive and complicated to operate, which is not suitable for ordinary consumption. The formaldehyde measurement products that can easily and quickly detect the concentration of formaldehyde gas are the suitable choice for ordinary consumers.
Current market status of formaldehyde purification and formaldehyde concentration detection
Formaldehyde purifier: As one of the most effective means for indoor formaldehyde removal, formaldehyde purifiers are developing rapidly under the impetus of market demand. Formaldehyde purifiers based on different principles of formaldehyde removal emerge in endlessly, including activated carbon adsorption principle and potassium permanganate catalytic principle, the principle of photocatalysis, the principle of chlorine dioxide reaction, etc. The real-time display of the formaldehyde concentration on the formaldehyde purifier will increase the consumer's sense of experience and trust. Therefore, when purchasing a formaldehyde purifier, consumers are more willing to choose a formaldehyde purifier with a formaldehyde concentration display.
Formaldehyde detector: From the survey of e-commerce platforms, we can find that there are many types of portable formaldehyde detectors. Generally speaking, low-price sales will be more objective. There are even some high-selling formaldehyde detectors whose core is a semiconductor sensor. Most consumers do not have a deep understanding of formaldehyde detection, and they are easily misled by publicity methods when making choices. From many customers' feedbacks, many types of formaldehyde detectors could not reflect the real formaldehyde concentration in actual use.
The core component of formaldehyde concentration detection in formaldehyde purifiers and formaldehyde detectors are formaldehyde sensors. At present, due to the advantages of the high precision, high sensitivity and ease of use, formaldehyde sensors with electrochemical detection principles occupy the mainstream of the market. However, because of the complex indoor environment, electrochemical formaldehyde sensors are still facing some challenges for indoor applications.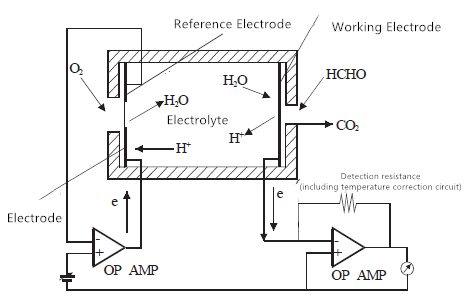 Figure 1: Schematic diagram of electrochemical formaldehyde sensor
Technical difficulties of electrochemical formaldehyde sensor
1. Interference of cross gas. Since ethanol gas can also react with the electrolyte in the electrochemical formaldehyde sensor, when the electrochemical formaldehyde sensor is used in the home environment, it will be affected by the ethanol gas emitted during cooking and drinking, and the measured value will be abnormally high.
2. "Poisoning" in a high-concentration alcohol environment. When high-concentration alcohol continues to contact the electrochemical formaldehyde sensor, the high-concentration alcohol will fill the reaction chamber inside the sensor, causing the electrolyte in the electrolyte to lose balance and appear "poisoning", which often takes several hours or even days to restore.
3. Storage and working temperature limit. Since the electrolyte in the electrochemical formaldehyde sensor uses the electrolyte as the carrier, when the temperature is too high, the electrolyte will be quickly lost, affecting the service life of the sensor. When the temperature is too low, the electrolyte will freeze and the sensor will not work.
4. Service life. The electrochemical formaldehyde sensor relies on the movement of electrons generated by the reaction between the electrolyte and the formaldehyde gas to identify the concentration of formaldehyde gas. During the reaction, the electrolyte is continuously consumed, but the electrolyte time is limited. When the electrolyte is exhausted, the life of the sensor will end.
Cubic Sensor: Tracing the origins, breaking the technical barriers of electrochemical formaldehyde sensors
Based on years of research on electrochemical detection technology, Cubic insists on technological innovation, independent research and development and production of diaphragms, looking for technological breakthroughs in electrochemical formaldehyde sensors from the root, and after continuous product upgrades, it has launched the anti-interference electrochemical formaldehyde sensor CB-HCHO-V4, currently available in batches.

Figure 2: Electrochemicalformaldehyde sensor CB-HCHO-V4
1. Nano material diaphragm, anti-alcohol interference.
The Cubic electrochemical formaldehyde sensor CB-HCHO-V3 adopts nano-material diaphragm and creatively uses a double grinding structure. The interference of alcohol gas is less than 1%. It can output HCHO, TVOC, VOC, temperature and humidity parameters at the same time.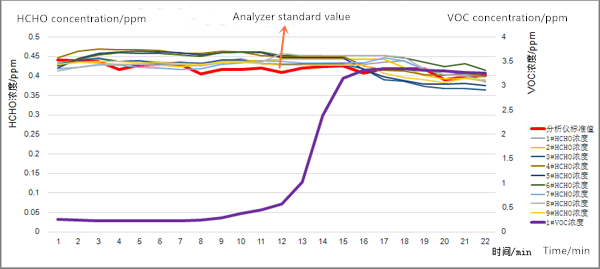 Figure 3: Alcohol intervention test curve after starting up under the background
2. Accurate measurement, high precision and good stability.
The Cubic electrochemical formaldehyde sensor adopts Finland's GASERA ONE FORMALDEHYDE formaldehyde analyzer as the standard instrument. It is based on a combination of ultra-sensitive cantilever enhanced photoacoustic detection technology and quantum cascade laser source technology running on the mid-infrared basic spectral absorption line of formaldehyde. One of the main advantages of the photoacoustic effect is that the sensitivity does not depend on the length of the absorption path. This allows high sensitivity from a short absorption path length, and a highly linear response in a wide dynamic measurement range, and can reliably measure the formaldehyde level of the environmental background in real time without any consumables. At the same time, its stability in detecting formaldehyde is very high, and the calibration cycle exceeds one year.

3. High alcohol tolerance and extremely low risk of "poisoning".
The diaphragm independently developed and produced by Cubic has good alcohol tolerance and is not prone to "poisoning" in the actual use environment.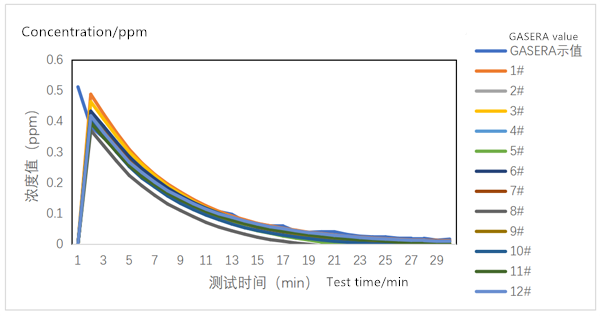 Figure 4: After 50ppm alcohol tolerance test, accuracy test under formaldehyde gas
4. Independent temperature and humidity sensor correction technology, not affected by temperature and humidity.
Cubic electrochemical formaldehyde sensor adopts an independent temperature and humidity sensor, equipped with dynamic temperature and humidity correction technology, the measured value of formaldehyde is not affected by temperature and humidity.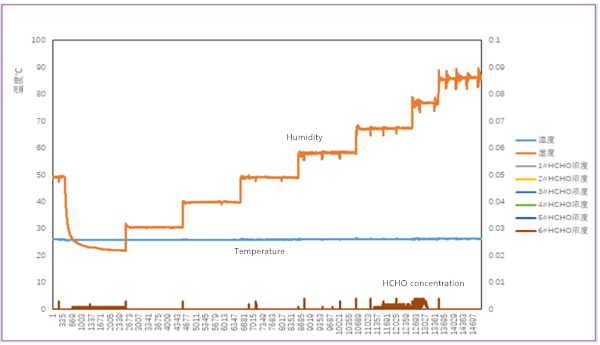 Figure 5: Humidity influence test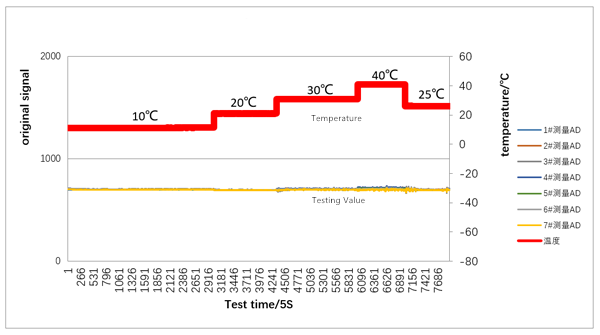 Figure 6:Constant humidity varying temperature test
5. Long service life, theoretical service life up to 6 years.
The Cubic photoelectric electrochemical formaldehyde sensor uses a porous ceramic reaction chamber and a unique electrolyte slow release structure to extend the service life of the sensor. In the actual life accelerated test, the theoretical life is about 6 years.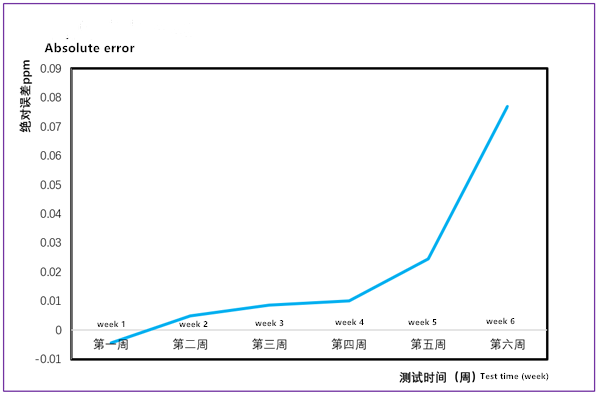 Figure 7:The formaldehyde diaphragm detects the average deviation of 0.4ppm HCHO in a 7ppm alcohol (analogous 2ppm formaldehyde) environment
Based on the electrochemical formaldehyde sensor CB-HCHO-V4, Cubic has integrated and developed a portable mini formaldehyde detector. Its small size makes it truly portable, LED screen numerical display, and high concentration buzzer alarm; it can help consumers can quickly judge whether the concentration of formaldehyde in the work and life environment is at a safe level, can judge the formaldehyde removal effect of formaldehyde purifiers or other formaldehyde removal methods, and can help consumers choose products that emit the least formaldehyde when choosing furniture or other decorative materials. , Is the consumer's "formaldehyde detection pioneer in the pocket". In addition, it also developed the air quality detector AM7000, which integrates PM2.5 sensors, CO2 sensors, temperature and humidity sensors, etc., which can communicate through wifi or Bluetooth to achieve comprehensive monitoring of indoor air quality.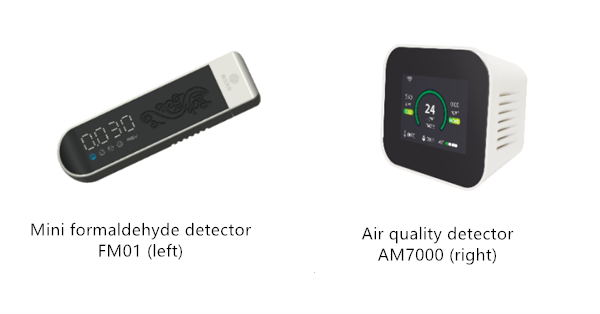 Figure 8: Cubic formaldehyde detector and monitor
About Cubic
Cubic was established in 2003 in "Wuhan-Optics Valley, China". It is a high-tech enterprise specializing in R&D, production and sales of gas sensors and gas analysis instruments. Xiong Youhui, chairman and founder of Cubic Sensor and Instrument Co., Ltd, is a PhD in thermal engineering from Huazhong University of Science and Technology, a professor-level senior engineer, and an expert with special allowances from the State Council.Cubic has developed gas transmission based on the principles of non-dispersive infrared (NDIR), light scattering detection (LSD), ultrasonic (Ultrasonic), ultraviolet differential absorption spectroscopy (UV-DOAS), thermal conductivity (TCD), laser Raman (LRD), etc. The sensor technology platform has formed two major types of industrial ecology, gas sensors and gas analysis instruments, and dozens of different products, which are widely used in home appliances, automobiles, medical treatment, environmental protection, industry, energy measurement and other fields at home and abroad.
Cubic is the first batch of intellectual property demonstration construction enterprises in Hubei Province. It has established the Hubei Province Gas Analysis Instrumentation Engineering Technology Research Center and the Hubei Province Enterprise Technology Center. It has undertaken the national major scientific instrument and equipment development special projects, the Ministry of Industry and Information Technology Internet of Things development special projects and other national technologies Development project. As of the end of August 2020, the company and its subsidiaries have 101 domestic and foreign registered patents, including 99 domestic and 2 foreign patents. There are 33 invention patents (31 domestically, 2 overseas). The company and its subsidiary Hubei are determined to be selected as a demonstration enterprise for the "one-stop" application plan of industrial strong base sensors by the Ministry of Industry and Information Technology in 2019. With long-term technological accumulation, good product performance and international vision, the company has obtained the recognition of many well-known domestic and foreign companies, and the products are sold throughout the country and exported to many countries and regions.