The development and application of Cubic Sensors in light scattering technology can be traced back to the 2008 Shanghai World Expo. In order to meet the product development needs of a well-known Chinese domestic heating, ventilation and air conditioning (HVAC) customers, Cubic has successfully developed an integrated air quality module for customers, including various indicators such as PM2.5, CO2, formaldehyde, magnetic radiation, temperature and humidity. Since then, Cubic has continued to deepen the research and innovation of particle sensors. In the beginning, Cubic offered core gas sensing modules for industrial high-end instruments and equipment. Now Cubic could offer integrated gas sensing solutions for various types of indoor smart home appliances, OEM automotive appliances, outdoor dust and grid monitoring equipment, comprehensive factory cleanliness monitoring systems. Cubic has successfully covered multiple application fields, involving a variety of different application scenarios such as indoors, outdoors, and cars, and realized the development and application of the entire product line based on light scattering technology.
Indoor dust detection
Early air purifier customers mostly used Japanese brand dust sensors for particle detection, which were only used to display different colors (usually red for over-standard, yellow for early warning, and green for good conditions) or 1, 2, 3 digital levels to show the purifying effect of the device. This level display method can only be used as a reference for trend changes, and cannot convey the real situation of the environment. There are two reasons for this. One is that early air pollution such as haze is not too serious, and the market does not require accurate display; the other is that the application of light scattering technology in the field of household appliances is limited to a lower cost. Achieve further technical upgrades. This type of sensor is represented by Japanese and Korean brands, and the product appearance and design ideas are as follows: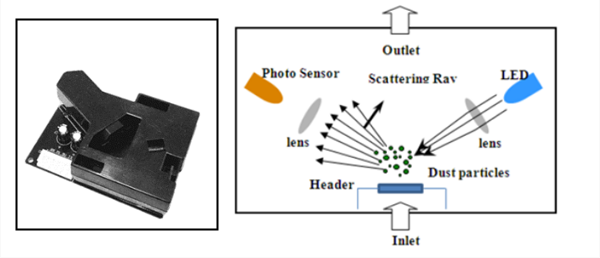 It could be seen that this type of product design principle that uses infrared LEDs as light sources and heating resistors to achieve air flow has very weak original signals and cannot distinguish the difference between particulate matter signals and substrate noise. Therefore, it can only be triggered by low-level methods. The low-level duty cycle in a unit detection period is used to refer to the changes in particulate matter detected in the environment.
With the acceleration of China's industrialization process, environmental pollution problems have become increasingly prominent, and the haze problem that affects the respiratory health of urban residents has become increasingly severe. "PM2.5" has also entered the public's view for the first time and has become a hot keyword in 2013. Cubic participated in the AWE China Home Appliance Expo in March 2014 and received the urgent needs of many home appliance companies for low-cost and high-precision PM2.5 detection.
"High technology, low cost, mass production" is the direction that Cubic has always been dedicated to. Cubic immediately established a research and development team to actively respond to the market demands. Through nearly one year hard work, Cubic completed the mass production of the first laser dust sensor PM2005 which is specifically developed for air purifiers, achieving a domestic product breakthrough in this field in China. PM2005 upgrades the LED light source to a laser light source, adapting a fan to achieve stable airflow control, and using a single-chip microcomputer realizes the digitization of the output signal. What's more, Cubic laser dust sensor PM2005 is equipped with various data communication transmission methods such as UART, IIC, and PWM. It is truly online real-time and precise measurement and has high cost performance. And it is the first choice for purifier manufacturers at home and abroad.
Performance comparison between LED infrared dust sensor and laser dust sensor:

As can be seen from the above table, if the user needs fast and accurate real-time values display, laser dust sensors are undoubtedly a more reasonable choice. And if the requirement is only a level display, or just a simple number display, and no further demand for measurement accuracy, LED infrared dust sensors could be still your suitable choice.
Found in 2015, Cubic has continuously launched new products according to market demands. At present, laser dust sensors have many products such as PM2107, PM2008, PM2009, PM2012, etc. Customers may have many choices according to their various demands for structure and performance.

Dust detection in the car
At the same time, the smog problem has also caused people to pay attention to the air quality in the car compartment. By actively carrying out technical exchanges with the developers of OEM car manufacture and cooperating with them in the pre-research projects. In 2016, the first generation automotive laser particulate matter sensor assembly PM2.5 CAPS-3500 that adopts passenger car front-mounted technology and meets the requirement of high measurement reliability was launched. And owing to its good performance, Cubic was designated as a Tier2 supplier by a world famous car brand company in the same year.
In 2017, Cubic smoothly passed the IATF16949 automobile quality system certification, and we developed the second-generation vehicle-level PM2.5 sensor assembly APMS-3000 which has been highly praised by an internationally renowned automotive air conditioner brand. In 2018, Cubic together with its third-generation PM2.5 sensor assembly APMS-3500 was designated by Jaguar Land Rover as a first-tier supplier. In addition, Cubic has also developed the APMS-3300 series of automotive-grade PM2.5 sensor assembly platform, which has been applied to many domestic and foreign models in batches.
The front-mounted application of light scattering technology in the vehicle is completely different from the indoor home scene, and it has encountered various technical difficulties and challenges. First, the air environment in the cabin is more complicated. Indoor home usually has an air purifier or a fresh air system, so the indoor environment is relatively clean. There are not many large particles, and most of the small particles below 1μm. The testing values for PM2.5 and PM1.0 concentration value are very close so it is reasonable for us to calibrate the sensor through cigarettes. It is also accepted and approved by national standard basis (GBT18801-2015 uses Hongtashan 1916 brand cigarettes as the standard dust source). But the environment in the cabin is completely different. In car, the outside air will frequently blow in. Also the composition of environmental dust on different roads such as national highways, highways, underground garages, and cities is different. If you continue to use the indoor household dust sensor, it is obviously impossible to achieve accurate dust source identification and measurement.
Through years of accumulation of light scattering technology and in-depth understanding of application scenarios, Cubic has developed an intelligent dust source identification algorithm (API algorithm), which can effectively identify the composition of particulate matter in the cabin and achieve precise measurement.

Secondly, whether it is the internal circulation or the external circulation of the car air conditioner, the airflow changes in the cabin are large. This is also very different from the static indoor air. If using the civil dust sensor, the detection data will be affected by the airflow. Large fluctuations due to the impact of changes bring a bad experience to users. According to the actual application situation, Cubic upgraded the bearing fan in the civil dust to a large-size blower, which has a stronger ability to resist wind resistance. It can also connect an external air duct of 10-30cm to ensure the stability of the detection data.
Since there were no blowers on the market that fully met the requirements of vehicle regulations for environmental temperature and reliability, the supplier's customization cost was expensive and time coordination could not meet the project's mass production needs. Cubic invested in opening its own vehicle-level fan factory. We developed and designed in full accordance with the performance and reliability requirements of automotive applications. It has been mass-produced and applied to many models, achieving self-made core and key components.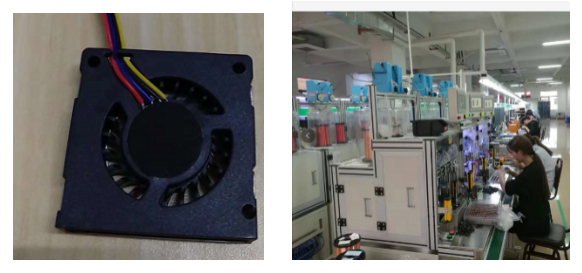 Finally, due to the large number of vehicle models available from OEMs, both newly designed models and mass-produced modified models, the installation and fixing space for the dust sensor is very limited. Cubic aims to reduce the cost of new product development for customers, and shorten the development cycle. Cubic innovatively introduced the creativity of platform-based development, and launched a platform-based series of products APMS-330X. This series of products can support individual design for the air inlet and outlet and connectors position without changing the PCBA and hardware design.

Outdoor Dust Monitoring
In 2018, the Environmental Protection Agency in China released our country's plan to implement grid-based environmental supervision and gradually achieve full coverage from key areas. The relevant trial standard "Technical Guidelines for Atmospheric PM2.5 Grid-based Monitoring Point Layout (Trial)" is also gradually released. Using an accurate and scientific grid monitoring system to control air pollution can effectively improve the efficiency of environmental governance. The core of the grid system is the effective monitoring of PM2.5 and PM10.
2020 is the year to win the battle to defend the blue sky and the 13th Five-Year Plan. Our country's air pollution control has entered the "deep water period", and the rest are hard-to-eat "hard bones". As a key and difficult point for a long time, the control of dust pollution has become one of the key points for the completion of the air pollution control target.

Construction site dust and urban grid monitoring are an important part of air pollution prevention and control. The core sensor for detection in the monitoring system is especially important. It must have the three characteristics of scientific reliability of the product, completeness of application and economic applicability. In the field of outdoor dust and grid monitoring in China, the monitors of weighing method and β-ray absorption method were used in the early stage. However it could not realize online real-time monitoring. The investment cost and maintenance cost is high so that it did not get widespread application in the market. Also the residential laser dust sensor in civil air purifiers could not be used in the outdoor temperature environment of -30~70℃. Since the outdoor environment often encounters frost and dew, the water vapor entering the sensor will seriously affect the measured value, and even cause permanent damage to the sensor. Residential laser dust sensors have low laser power and low sampling flow, and PM10 recognition rate is very low. Civil laser sensors usually calculated PM10 concentration based on the number of PM2.5, resulting in distortion of PM10 monitoring data.
By accurately grasping the pain points of the above-mentioned customer needs, Cubic continues to overcome difficulties, leverages the long-term accumulated technical advantages on the principle of light scattering, and combines the accumulated experience in indoor and car dust detection to develop the dust sensor-PM3003, PM3006 series products have the following key advantages and features:
First of all, the use of wide-temperature high-power linear laser light source, API dust automatic identification technology, advanced flow channel design to achieve anti-pollution, high-humidity environment water mist removal device, etc., to create a new low-cost to achieve accurate outdoor dust measurement, the correlation between the real-time monitoring values of PM2.5 and PM10 and β-ray absorption method monitoring equipment can reach 0.9 or more.

Secondly, PM3003X and PM3006 laser dust sensors use constant power, linear light sources with a working temperature of -30~70℃, and their optical power is up to 100mW, which is more than 20 times higher than that of point light sources. The original signal is stronger and greatly improved. Recognition efficiency of particulate matter. At the same time, constant power control is adopted for the light source to ensure the stable output of the original signal and the stability of the measurement.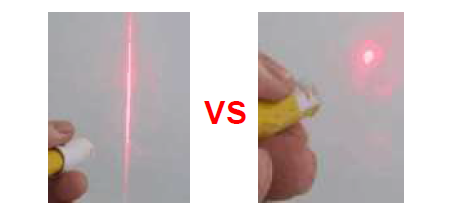 Finally, a dehumidification device is equipped to prevent small water droplets in the outdoor environment from entering the detection gas chamber, and eliminate the impact of water vapor on the accuracy of the dust sensor.

As a result, Cubic has realized the full coverage of dust detection application from indoor to car, and then to outdoor. Our biggest advantage is that it can combine the requirements of different field application scenarios for products, realize the flexible configuration of technology, and provide creative and high-quality solutions for customers. In the future we could help customer product upgrades, and provide further technology support.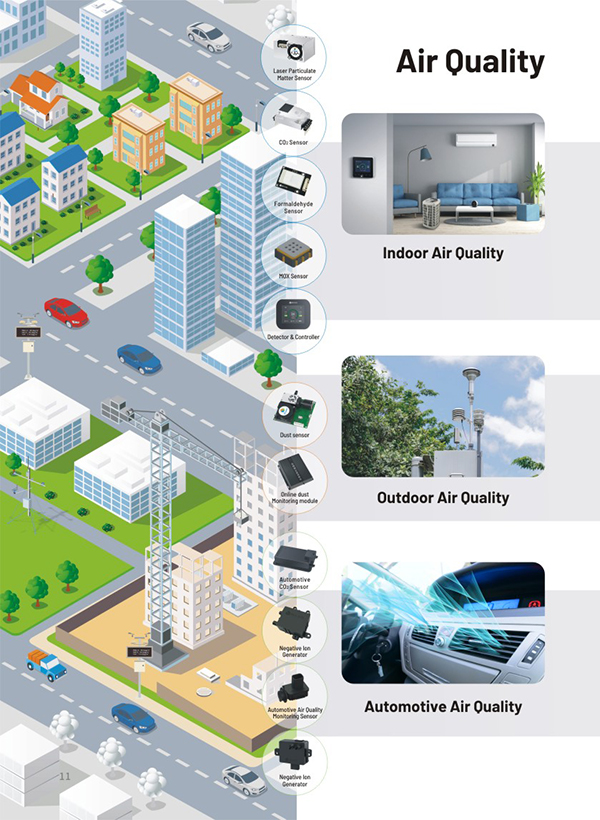 About Cubic
Cubic was established in 2003 in "Wuhan-Optics Valley, China". It is a high-tech enterprise specializing in R&D, production and sales of gas sensors and gas analysis instruments. Xiong Youhui, chairman and founder of Cubic Sensor and Instrument Co., Ltd, is a PhD in thermal engineering from Huazhong University of Science and Technology, a professor-level senior engineer, and an expert with special allowances from the State Council.
Cubic has developed gas transmission based on the principles of non-dispersive infrared (NDIR), light scattering detection (LSD), ultrasonic (Ultrasonic), ultraviolet differential absorption spectroscopy (UV-DOAS), thermal conductivity (TCD), laser Raman (LRD), etc. The sensor technology platform has formed two major types of industrial ecology, gas sensors and gas analysis instruments, and dozens of different products, which are widely used in home appliances, automobiles, medical treatment, environmental protection, industry, energy measurement and other fields at home and abroad.
Cubic is the first batch of intellectual property demonstration construction enterprises in Hubei Province. It has established the Hubei Province Gas Analysis Instrumentation Engineering Technology Research Center and the Hubei Province Enterprise Technology Center. It has undertaken the national major scientific instrument and equipment development special projects, the Ministry of Industry and Information Technology Internet of Things development special projects and other national technologies Development project. As of the end of August 2020, the company and its subsidiaries have 101 domestic and foreign registered patents, including 99 domestic and 2 foreign patents. There are 33 invention patents (31 domestically, 2 overseas). The company and its subsidiary Hubei are determined to be selected as a demonstration enterprise for the "one-stop" application plan of industrial strong base sensors by the Ministry of Industry and Information Technology in 2019. With long-term technological accumulation, good product performance and international vision, the company has obtained the recognition of many well-known domestic and foreign companies, and the products are sold throughout the country and exported to many countries and regions.