EMAIL

Home > Product > Optical Particle Counter
Indoor Air Quality

Outdoor Environment

Health Medical

Automotive Electronics

Safety Alarm

Smart Metering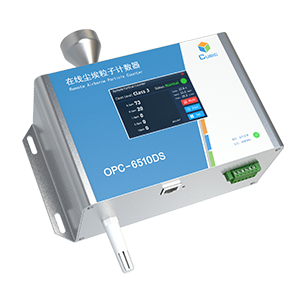 Online Optical Particle Counter with Display OPC-6510DS
OPC-6510DS
OPC-6510DS is a cleanroom airborne particle counter, it can accurately detect and calculate the number of different size particles in the air per unit volume. The device can simultaneously output the particle number of 5 channels of >0.3μm, >0.5μm, >1.0μm, >5.0μm, >10μm in pcs/28.3L or pcs/m³. The screen can realtime display the monitoring data, cleanroom ISO14644-1 2015 grade and alarm once the particle quantity exceeds the set threshold. The touch screen also supports setting the output unit, display channel, concentration alarm threshold, coefficient, language, work time, MQTT, etc.
Show More
Features
Real-time output particle quantities of 0.3μm, 0.5μm, 1.0μm, 5.0μm, 10μm in pcs/28.3L or pcs/m³.
Sound and light alarm once particle quantity exceeds the set threshold.
ModBus and MQTT communication protocols available.
Calibration coefficient correction available against standard equipment.
Real-time display cleanroom ISO 14644-1 grade level.
Output units switchable between pcs/28.3L and pcs/m³.
Constant flow gas sampling system to ensure stable sampling.
Industrial grade laser for high reliability.
Specifications
CO2 Sensor CM1106-C
Operating principle
Laser scattering
Measurement range
0~1,000,000 pcs/ 28.3L
Output channels
>0.3μm, >0.5μm, >1.0μm, >5.0μm, >10μm
Count efficiency
50%@≥0.3μm, 100%@≥0.5μm
Condition: 25±2℃, 50±10%RH, calibration instrument Lighthouse 3100
Time to first reading
≤ 8 seconds
Data refresh time
1 second
Working condition
0°C ~ 45°C, 0 ~ 95%RH (Non-condensing)
Storage condition
-20°C ~ 60°C, 0 ~ 95%RH (Non-condensing)
Operating voltage
DC 24V±15%
Average operating current
≤3A
Communication interface
RS485(Standard), RJ45(Standard)
Life span
≥3 years
Sampling flow rate
28.3L/min (1CFM)
External sampling tube
Inner diameter: ф10mm Length: ≤3m
Work mode
Adjustable(default: work 2 minutes and sleep 28 minutes)
Display
3.5-inch color touch screen
Show More
You can contact Cubic by telephone, mail or email , or you can submit an online Request for Quotation Form.
Email: info@gassensor.com.cn
Required*
CONTACT SALES