EMAIL

Home > Product > Spirometer
Indoor Air Quality

Outdoor Environment

Health Medical

Automotive Electronics

Safety Alarm

Smart Metering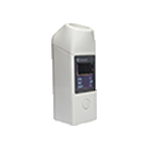 Ultrasonic Spirometer
Gasboard 7021(Residential Type)
Gasboard-7021
Handheld Pulmonary Function Spirometer Gasboard-7021 is applied to patients who need lung function measurement. Adopting ultrasonic technology, it is a high-tech product used for pulmonary ventilation function and vital capacity. It is a powerful measurement device for asthma checking, COPD and other respiratory diseases, evaluating lung function of smoker, chronic cough and people with multiple sputum. It offers multiple functions such as patient information management, graphic real-time display, test results automatically calculated, lung function automatically assessment, printout history test results checking, etc. It is lightweight and portable for you to know the lung activities at all times.
Show More
Features
Ultrasonic gas flow sensor adopted
Designed for home use, portable and lightweight
Without needing calibration, long lifespan
Real-time accurate data display, history record available
Real-time test report review
Specifications
CO2 Sensor CM1106-C
Measurement range
FVC(0.5~8)L ±3% or ±0.050L (whichever is larger);
PEF (0~14) L/s ±10% or ±0.30L/s (whichever is larger);
FEV1(0.5~8)L ±3% or ±0.050L(whichever is larger)
Atmosphere pressure
80Kpa~106Kpa
Power supply
DC 3.2V~4.2V (Powered by lithium battery)
Working temperature
5℃~40℃
Working humidity
≤80%RH(non-condensing)
Storage temperature
-40℃~55℃
Show More
You can contact Cubic by telephone, mail or email , or you can submit an online Request for Quotation Form.
Email: info@gassensor.com.cn
Required*
CONTACT SALES