Recent years, lithium-ion batteries thermal runaway events have attracted widespread attention. To further reduce the loss of life and property caused by lithium-ion batteries thermal runaway, some important regulations have been promulgated. UN GTR 20: "The vehicle shall provide an advance warning indication to allow egress or 5 minutes prior to the presence of a hazardous situation inside the passenger compartment caused by thermal propagation". GB 38031-2020: "5 min before a danger is caused in the passenger compartment due to thermal propagation, as a result of thermal runaway of a single battery, …, and the safety requirements shall still comply with 5.1.".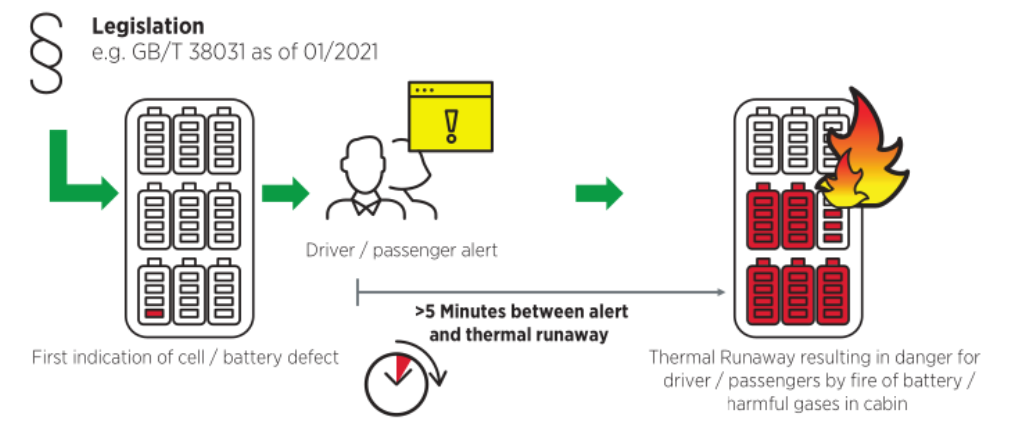 Figure: Requirements for Thermal Runaway Early Warning
From Reducing the Risk of Battery Fires with Functionally Enhanced Venting Units (Published: 08 March, 2022)
In order to meet the requirements of the above regulations for "thermal runaway warning within five minutes", the safety status of batteries need to be monitored more timely. Current research shows that for earlier detection of lithium-ion batteries thermal runaway, it is more effective to monitor the gas concentration released by the battery compared to monitor the battery voltage and temperature. This is because before triggering thermal runaway, lithium-ion batteries will release large amounts of gases such as CO2, CO, HC and H2, the gases concentration will be significantly increased. By monitoring the concentration of these gases, it is possible to detect lithium-ion batteries thermal runaway even earlier.
Cubic, a leading manufacturer of smart gas sensors, has developed a revolutionary automotive gas sensor technology for early thermal runaway warning of automotive batteries. Cubic adopts NDIR (dual channel non-dispersive infrared) technology for CO2 concentration measurement, MEMS (microelectronic mechanical systems) for CO/HC/H2 measurement, and LSD (laser scattering) technology to achieve wide range measurement for smoke or aerosol. Cubic lithium-ion battery thermal runaway sensors can precisely detect the concentration of CO2, CO/HC/H2,andsmoke or aerosol, which are released from very early stage to late stage of thermal runaway events.
The remarkable features of Cubic lithium-ion batteries thermal runaway sensors:
•Multi-parameter measurement without false warning
•Detect thermal runaway with fast response
•Less cross interference for reliable detection
•Low power mode available, benefit for EV power consumption
For more product information, please click on https://en.gassensor.com.cn/LibatteryThermalRunawaySensor/list.html or contact: info@gassensor.com.cn.