EMAIL

Home > Product > CO2 Sensor
Indoor Air Quality

Outdoor Environment

Health Medical

Automotive Electronics

Safety Alarm

Smart Metering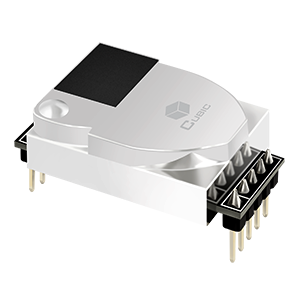 Super Low Power CO2 Sensor
CM1106SL-N
CM1106SL-N
CM1106SL-N is super low power consumption NDIR CO2 sensor with PIN type, widely used for battery powered applications. Single measurement mode and continuous measurement mode for choose. Widely used for air quality monitor, HVAC controller. Etc.
Show More
Features
NDIR technology with independent intellectual property
Super low power consumption
High accuracy, long-term stability, long life (>15 years)
Temperature calibration within whole measurement range
Auto-calibration, no need of maintenance
Small size and compact structure, easy to install
Wide supply voltage range enables variety of battery options
Adjustable measurement cycle by host
ABC setting by host
Specifications
CO2 Sensor CM1106-C
Measurement range
0-5000ppm
Accuracy
± (50ppm+5% of reading) (Note 1)
± (50ppm+3% of reading) (Note 2)
Working humidity
0~95%RH(non-condensing)
Working current
74uA (1 minute as measurement cycle)
37uA (2 minutes as measurement cycle, default in the sensor)
Power supply
DC3.3V-5.5V
Signal output
UART_TTL
Dimensions
W33*H19.7*D8.9(mm)(pin is not included)
Weight
5g
Installation
Waterproof breathable film upwards
Note 1: In normal IAQ applications, accuracy is defined with 10°C-35°C, 0-85%RH. ±(50ppm+5% of reading) could achieved under continuous power supply mode, with 4s as working cycle and moving average based on 24 data.
Note 2: In normal IAQ applications, accuracy is defined with 10°C-35°C, 0-85%RH. When the sensor is under single measurement mode (controlled power supply by host), the sensor reading output is without moving average. The defined accuracy ±(50ppm+3% of reading) is based on data moving average≥5 and range of 400~2000ppm.
Show More
You can contact Cubic by telephone, mail or email , or you can submit an online Request for Quotation Form.
Email: info@gassensor.com.cn
Required*
CONTACT SALES